VOTD: Jon Stewart Stops By The Last Episode Of Larry Wilmore's 'The Nightly Show' With An Inspiring Farewell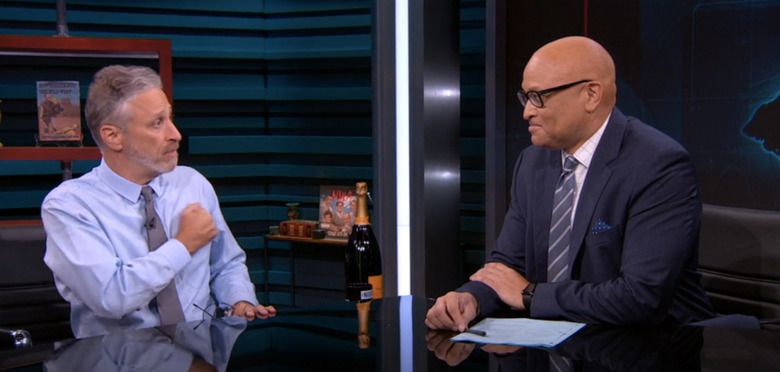 Last night brought the final episode of The Nightly Show with Larry Wilmore at Comedy Central after the cable network recently announced the cancellation of the political satire and panel program. And what better way to close out the show than with an appearance by Jon Stewart, the former host of The Daily Show? In typical Jon Stewart fashion, he had some very sage advice following the cancellation of The Nightly Show, and it makes us anticipate greatly his return to TV with his deal at HBO.
Watch Jon Stewart on The Nightly Show last night after the jump.
First, we'd like to point out that Jon Stewart wasn't the only one to comfort Larry Wilmore during this difficult time. The host has been posting pictures to Instagram this week of all the farewell gifts he has been given, primarily booze, from his former Daily Show cohorts. Samantha Bee sent over a bunch of liquor, John Oliver sent some alcohol and told him to get "premium cable wasted," and apparently Trevor Noah and the folks at The Daily Show didn't get the booze memo because they sent a bunch of cookies and pastries.
But easily the best package came from Stephen Colbert at The Late Show, because not only did he sent a bunch of liquor, but he had it arranged to look like Larry Wilmore himself. Check it out:
Thanks @stepenathome and @colbertlateshow for all the tiny bottles of booze!
A photo posted by Larry Wilmore (@ldub61) on
Now here's a bearded Jon Stewart saying a fond farewell to The Nightly Show:
Jon Stewart's segment starts around the 5:09 mark, but if you can't watch the video right now for some reason, here's the best part of the segment:
I have been in situations in what we call show business where my name has been on the show, they locked the door and told me, it was a Paramount executive, 'Get your shit and get out!' A wise man said to me, 'Do not confuse cancellation with failure.' And I took that to heart. So I will say this: What you, my friend, were tasked to do, you have done beautifully. You gave voice to under-served voices in the media arena and it was a show that was raw and poignant and funny and smart. You took something and got better every fucking day. We talk about a little thing called resonance. Did you resonate with your audience? Not only that but in a way you don't even realize yet and won't reveal itself for years to come. You started a conversation that was not on television when you began. What you don't realize is you walk out of this room and that conversation doesn't end.
There's a great cap to the end of this speech, but it's much better executed in video form than in text, so you can seek that out yourself. Farewell, The Nightly Show. We hardly knew ye.