Cool Stuff: Marq Spusta's 'Ferris Bueller's Day Off' Print Moves Pretty Fast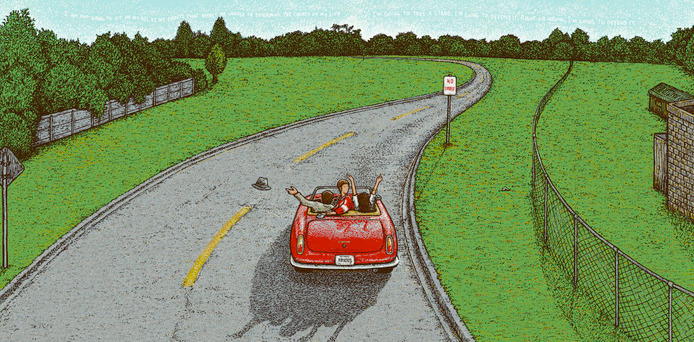 This past summer marked the 30th anniversary of Ferris Bueller's Day Off, and there were various screenings of the film here and there to celebrate the milestone, but otherwise it's been a pretty quiet celebration. It's certainly nowhere near as buzzworthy as the 30th anniversary of Back to the Future last year or Ghostbusters the year before that. That's a real shame, because this John Hughes classic is one of the best coming of age comedies of all time, and it deserves some celebratory love. That's where artist Marq Spusta and Dark Hall Mansion come into play with a new Ferris Bueller's Day Off print that you can get today.
Here's Marq Spusta's print for Ferris Bueller's Day Off from Dark Hall Mansion: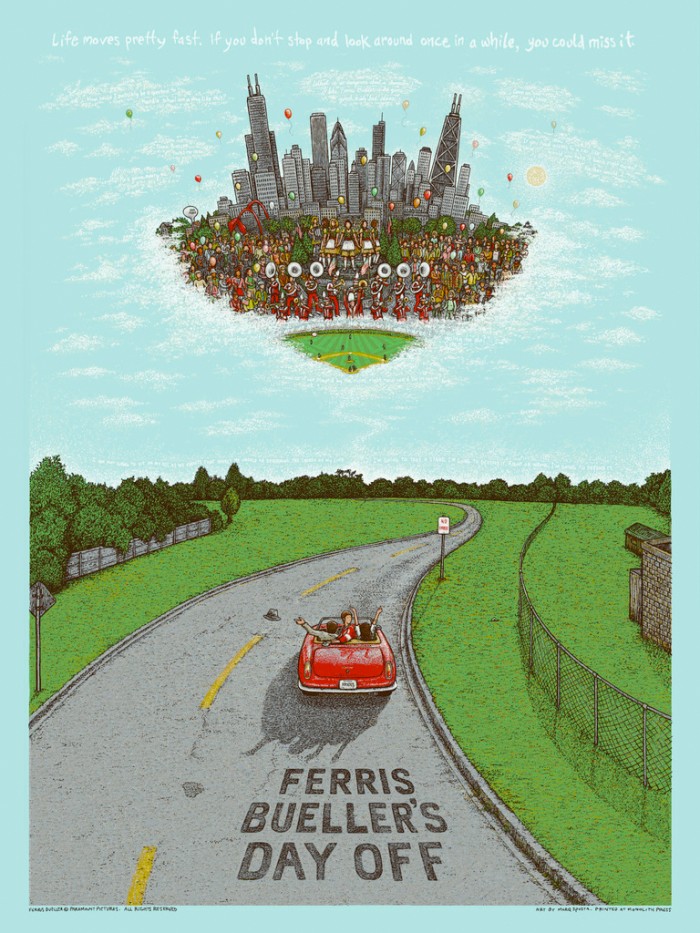 And here's the Opal variant on the left and the Super Gold variant on the right:
If you look carefully at the prints, you'll see that some of the movie's most memorable lines are laid out in the clouds in the sky about Ferris, Cameron and Sloane as they may their way to the city to experience the baseball game, parade and other shenanigans. I might be looking too much into the aesthetic of the art, but the way the people are portrayed reminds me of the painting A Sunday Afternoon on the Island of La Grande Jatte, the one Cameron stares at in the museum.
The Blue Sky print will have 350 copies for sale for $65 each. The variants made with metallic inks will cost you a little more with the Opal print having an edition of 150 for $90 each and the Super Gold print having an edition of 90 for $125. They all measure 18x24 inches and will be on sale at Dark Hall Mansion's online store at 12:30pm Pacific time today. Act fast if you want to get your hands on one.