Joe And Anthony Russo Would Also Like To See Anna Kendrick As Squirrel Girl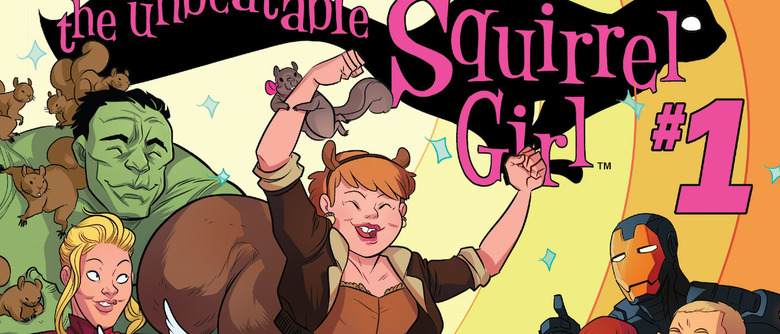 Officially, Marvel Studios has made no indication that they intend to bring Squirrel Girl to the big screen. But that's not stopping fans from fantasizing about who should play the unbeatable rodent superhero. Over the past year or so, Anna Kendrick has emerged as a popular fantasy-cast pick, with Kendrick herself expressing interest in the role. Recently, Kendrick's Scott Pilgrim vs. The World director Edgar Wright chimed in with his support.
Now Kendrick also has the endorsement of two high-profile figures actually involved with the MCU. Avengers: Infinity War directors Joe and Anthony Russo have spoken up to say Kendrick as Squirrel Girl would be "perfect casting." That doesn't mean a Squirrel Girl movie will ever actually happen, mind you, let alone that Kendrick will star. But hey, we can dream. 
Yahoo Movies got the Russos to share their thoughts on Kendrick as Squirrel Girl. "It would be perfect casting, and we're huge Anna Kendrick fans," said Joe Russo. Before you get too excited, though, Anthony Russo added that they've already got their "hands full trying to tell the story we have with our preexisting characters" in Avengers: Infinity War, and Joe Russo agreed that "Anthony would probably die from exhaustion if we introduced another character."
First created by Steve Ditko and Will Murray in 1992 as a joke, Squirrel Girl has long been one of the more obscure superheroes in the Marvel Comics canon. The character has popped up a few more times over the years, notably as part of the Great Lakes Avengers (a more lighthearted offshoot of the more famous superhero team). But it was the launch of her own title in 2015, The Unbeatable Squirrel Girl by Ryan North and Erica Henderson, that turned her into a more mainstream favorite.
In contrast to Marvel's more serious-minded core heroes, Squirrel Girl is known for her sunnier, quirkier sensibility. Her comics often include meta-commentary on familiar superhero tropes and the absurdity of her own situation, but they're not really snarky. Though she has all the squirrel-related superpowers her codename suggests, her real secret weapon is a disarming sense of empathy. She'll try to talk to her opponents before resorting to combat (though when push comes to shove, she does just fine in the combat department as well).
It's not hard to see why the bubbly, hilarious Kendrick seems like an obvious choice to play Squirrel Girl. But she's hardly the only actress who wants the opportunity to play her. Recently, Shannon Purser, who plays Barb on Stranger Things, tossed her hat into the ring as well.
(And personally, my favorite choice is Kendrick's Scott Pilgrim co-star Mae Whitman. Yes, her.)
Realistically, we probably won't be seeing a Squirrel Girl movie anytime soon. Marvel Studios already has all their plans announced through 2019, and their off-the-record roadmap extends years beyond that. It's hard to see where a Squirrel Girl movie could fit in in the immediate future. Moreover, the same exact things that make the character so great make her kind of an odd fit for the megabudget, action-heavy blockbuster spectacles that Marvel Studios specializes in. But hey, Marvel's TV universe seems to be expanding. Hulu, Netflix — if any of you want to take this on, you've got our support.