'Drunk History' Season 4 Trailer: Dave Grohl, Patton Oswalt, Elizabeth Olsen & More Get Historical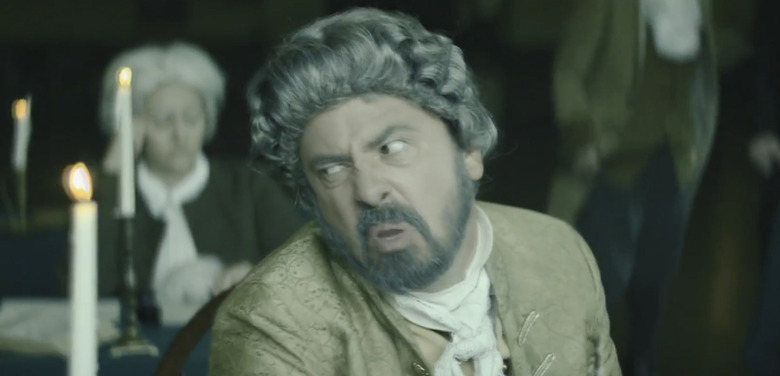 This may come as a surprise, but Comedy Central's Drunk History officially won an Emmy last year. Unfortunately, it wasn't the Outstanding Variety Sketch Series award the show was nominated for (a nod the series also landed this year), but instead for the wonderful historical costumes crafted by Christina Mongini. However, if the new Drunk History season 4 trailer is any indicator, then an award win for the series as a whole could still be coming down the road. Watch below!
Here's the Drunk History season 4 trailer straight from Comedy Central:
The trailer has some difficult balancing the editing style with the audio from the drunken history tellers, but there's still some great teases of the ridiculousness that's in store for audiences this year. You'll even find some fragments of the retelling of the story of Alexander Hamilton and Aaron Burr as told by Hamilton musical creator Lin-Manuel Miranda, with Hamilton and Burr being played by Alia Shawkat and Aubrey Plaza respectively. Other highlights include Ronda Rousey punching someone, Elizabeth Olsen talking about taking a dump, Dave Grohl looking outstanding in a powdered wig, and much more.
Among the stories we get include Paget Brewster talking about the friendship that blossomed between Eleanor Roosevelt (played by Busy Phillips) and Soviet soldier Lyudmila Pavlichenko (Mae Whitman), and Allan McLeod (You're the Worst) recalling the heated debate as to whether British actor William Macready (Jack McBrayer) or American actor Edwin Forrest (David Koechner) was the better talent.
As we heard previously, the rest of the guest stars appearing on the show this seaason Green Day frontman Billie Joe Armstrong, Steve Berg, Rachel Bilson, Michael Cera, Josh Charles, Kat Dennings, Ben Folds, Dave Grohl, Tony Hale, Ed Helms, Thomas Middleditch, Liev Schreiber, Duncan Trussell and more.
It's actually pretty incredible to see how far this show has come. What started as a recurring Funny or Die sketch series has turned into an Emmy-nominated TV show that hasn't stopped being funny yet. The roster of drunken storytellers is chock full of great comedians you should know, and the incredible guest stars who bring it to life make it that much better. If we're lucky this show will run forever and ever.
The fourth season of Drunk History is coming with another 10 episodes starting September 27 at 10:30pm ET/PT.