Even More 'Harry Potter' Stories Coming This Fall, This Time In The Form Of Pottermore eBooks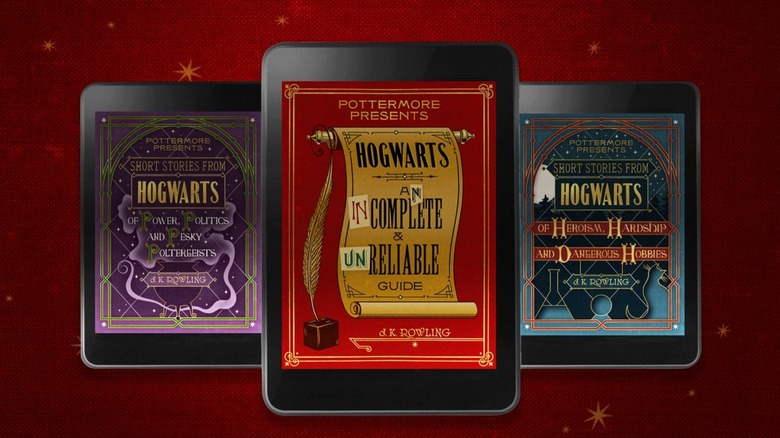 Harry Potter's story came to an end nine years ago with the publication of Harry Potter and the Deathly Hallows, or so we thought at this time. In truth, the wizarding world has continued to thrive since the "last" Harry Potter book. This fall's Fantastic Beasts and Where to Find Them picks back up with the Potterverse in a different time and place on the big screen, while this summer's Harry Potter and the Cursed Child brought back Harry himself, now all grown up. And we're still not done.
Pottermore announced today that a trio of "bite-sized eBooks" will arrive this fall under the banner Pottermore Presents. The books will dig deeper into Hogwarts, dishing out new stories about professors like Horace Slughorn and Minerva McGonagall and new details about Hogwarts itself. 
The Pottermore Presents eBooks combine stories and essays from the Pottermore archives with new original writing from J.K. Rowling. All three will be made available on September 6, boasting covers by Miraphora Mina and Eduardo Lima. Each focuses on a different Hogwarts-related theme. The official Pottermore site has all the details on where to order or pre-order the new stories.
Hogwarts: An Incomplete and Unreliable Guide is, as the title suggests, about Hogwarts itself. Readers will learn more about the school's quirks, like all of those ghosts, and get answers to questions like "What happens when the Sorting Hat can't decide how to sort a student?" The cheeky title may be a reference to a certain Hermione quote from Goblet of Fire:
Thanks to @Fhaps for pointing out the title may be a reference to this part of GOF (paperback page 238) pic.twitter.com/46O9oqwzC9

— Andrew Sims+ (@sims) August 17, 2016
Moving on, Short Stories from Hogwarts of Power, Politics and Pesky Poltergeists takes a dip into the darker side of the wizarding world, with tales about Azkaban and the Ministry of Magic's woes. There will also be a new piece of writing by Rowling about Horace Slughorn, the Potions teacher from Half-Blood Prince.
And finally, Short Stories from Hogwarts of Heroism, Hardship and Dangerous Hobbies (they couldn't find an adjective that starts with H?) will focus on the Hogwarts staff, such as Silvanus Kettleburn, who preceded Rubeus Hagrid as the Care of Magical Creatures teacher. The eBook includes a new original piece of writing by Rowling about McGonagall and her role in the Second Wizarding War (which began in Goblet of Fire and ended in Deathly Hallows).
While the eBooks will largely consist of writing previously published on Pottermore, the eBooks will give fans who don't regularly visit the site a chance to catch up with the material. Anna Rafferty, Pottermore's director of product explained to Entertainment Weekly:
We want to be able to allow those who might prefer reading an eBook as well as those reading on a website to have access to these useful vignettes and entries on J.K. Rowling's wizarding world, because she's written them for those readers. We had such a rich body of work to clip and connect that it was the theming and the curation of it as well as the reading that was such a joy putting it together. I really hope that fans enjoy taking the journey back to Hogwarts.
Speaking as a Harry Potter fan who hates navigating the Pottermore site, I can definitely see the appeal.
Rafferty claims there are no plans at this time to publish more Pottermore Presents books beyond the three already announced. But if there's one thing we've learned over the past few years, it's that this franchise is never, ever going to end. And there's no evidence that fans would like it to — it seems there will always be demand for more stories and more details. I'd be surprised if these were the only Pottermore Presents eBooks ever published.