Animated Batman 1966 Movie Trailer Reunites Adam West & Burt Ward As Batman & Robin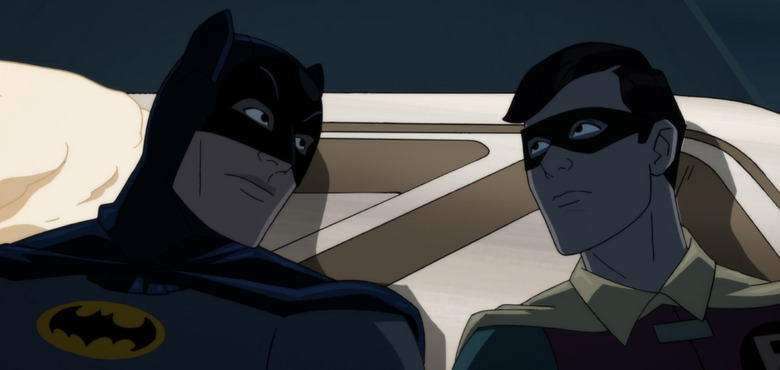 The Dark Knight has been portrayed by multiple actors over the decades. Michael Keaton played him for Tim Burton, Christian Bale played him for Christopher Nolan, and Kevin Conroy brought him to life in cartoon form in Batman: The Animated Series. But for older generations, Batman will always been Adam West, and now he's reprising the role in a new animated movie.
We first heard about the animated Batman 1966 movie in the spring of 2015 with a plan to bring back the classic versions of Batman and Robin this year, just in time for the TV show's 50th anniversary. Adam West and Burt Ward are back as Batman and Robin, and the first teaser trailer for the straight-to-DVD animated feature has just arrived online.
Watch the animated Batman 1966 movie trailer after the jump.
Here's the trailer for the new animated movie, Batman: Return of the Caped Crusaders, from EW:
For some reason, Batman and Robin find themselves on a giant dinner tray, so it's safe to say that that animated movie has kept the silliness of the original TV series intact for this animated anniversary celebration. The teaser uses footage from the movie, but since the dialogue from Adam West and Burt Ward specifically promotes the film, we'll likely get a completely different version of this scene in the final cut.
As the Caped Crusaders indicate in the trailer, Julie Newmar will reprise her role as Catwoman from the original show, and she won't be the only classic villain coming back. The Riddler, Penguin and The Joker will all return as well. However, there's no word on who will be playing those three villains since Frank Gorshin, Burgess Meredith and Cesar Romero have passed away. That's some information we'll probably get sometime down the road as the release gets closer.
While I'm not sure anyone was clamoring for an animated adaptation of the classic Batman series, it's a fun way to bring back the cast who has aged too much to do a live-action movie reunion. At the very least, it should be funny to see this campy version of Batman and Robin back in action. Plus, they're going to space this time! That in itself is enough of a reason to get excited.
Batman: Return of the Caped Crusaders arrives on Digital HD on October 11 and Blu-ray and DVD on November 1.