'Zoom' Trailer: Alison Pill Stars In An Even More Meta Take On 'Stranger Than Fiction'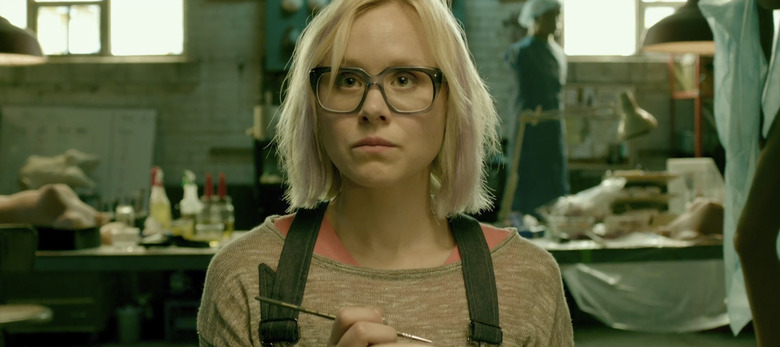 There have been countless movies of all kinds featuring stories within stories. Adaptation, The Princess Bride, Synecdoche, New York and even Tropic Thunder all have layers of storytelling within them. Now a new film from director Pedro Morelli that premiered at the Toronto International Film Festival last year takes that to the next level with one of the most meta narratives I've ever seen.
Zoom follows a comic book artist named Emma (Alison Pill) working in a sex doll factory who gets caught up in her desire to resemble the artificial, plastic fantasy of beauty that she sees everyday. Her only escape lies in a comic book where she controls a dreamy action filmmaker named Edward (Gael Garcia Bernal) who is working a more artistic film about a model named Michelle (Mariana Ximenes), who just happens to be working on a novel about a cartoonist named Emma. Yes, they're all creating each other's story, though you don't get that sense at all in the first Zoom trailer after the jump.
This trailer paints Zoom as a sort of Stranger Than Fiction movie with a dangerous plot thread of a drug deal running throughout, but the meta elements of the story obvious make things a little more complicated than they seem. However, as The Hollywood Reporter notes in their review from TIFF last year, "There's no way for all this to resolve that isn't fairly absurd. But [Pedro] Morelli's light touch generally keeps the goofiness from becoming tiresome."
With all the stylish animation and light approach to meta storytelling, this could be enjoyable, almost like a more accessible version of a Charlie Kaufman film. Plus, with the sex doll factory setting, a plot point involving breast implants and all the fantasy within a fantasy storytelling, there's a heightened sense of eroticism that we usually don't see in these kind of movies.
If you find yourself confused by Zoom, here's a more detailed synopsis from TIFF:
Emma (Alison Pill) is a comic-book artist who works by day in a factory that makes sex dolls, which is messing with her head. In an attempt to get herself closer to the plastic fantasy image that surrounds her, she makes a rash decision. Then she decides she wants to reverse that choice, but it's too late and too expensive to turn back. Fortunately, Michelle (Mariana Ximenes), the aspiring novelist writing Emma's story, gives her a way out. In turn, Emma controls the story of Edward (Gael García Bernal, also appearing at the Festival in Desierto), the filmmaker at the centre of the comic book she's drawing. He's a successful action-movie director with no shortage of confidence and an urge to make more artistically ambitious films. But, in a cruel joke, Emma takes her pen to the root of this man's vanity, shrivelling his confidence instantly. He begins to struggle with his film about Michelle, a Brazilian model living in Toronto and trying to write a novel about a cartoonist. In a bid to escape the fashion world and immerse herself in her writing, she returns to Brazil, finding a small fishing village where the pressure to complete her novel leads her to Alice (Cláudia Ohana), a hotel owner who changes her life. Of course, the hand of Michelle's creator, the action-movie director who wants to be a serious auteur, is never far behind.
Zoom hits theaters on September 2.