'Holmes And Watson' Has Life Again With Will Ferrell And John C. Reilly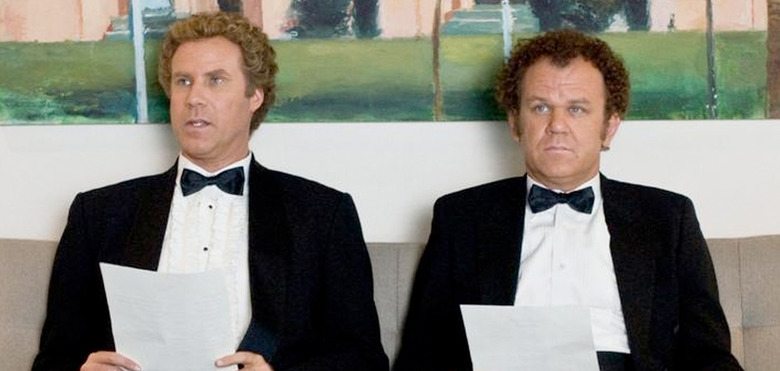 Even though there have been rumblings of a Step Brothers sequel, it's safe to say that project is probably just a pipe dream at this point. However, that doesn't mean we won't have another team-up of Talladega Nights stars Will Ferrell and John C. Reilly in the near future.
Holmes and Watson is a comedic take on Sherlock Holmes that has been kicking around since 2008, but it fell to the wayside when Guy Ritchie's adaptation of the detective with Robert Downey Jr. moved forward quickly and successfully. But now it appears enough time has passed for the project to resurface as a new project for Ferrell and Reilly to finally reunite yet again.
Get details on Holmes and Watson after the jump.
Originally the project was going to have Will Ferrell teaming up with his other Talladega Nights co-star, Sacha Baron Cohen. But now it will be Ferrell as Sherlock Holmes and Reilly as his right-hand man Watson. Imagining these two putting on convincing British accents is a little difficult, but maybe that's where some of the comedy will come from.
The script still hails from Etan Cohen (who wrote Tropic Thunder), who was attached as writer back in 2008, but now he's also slated to direct. This should come as no surprise after Cohen made his directorial debut with Get Hard starring Will Ferrell. Having read the script some years ago, I can tell you that Holmes and Watson is much funnier than Get Hard turned out to be, so hopefully not much has changed in the years since it was in development. But it's going to be hard to measure up to Ferrell and Reilly's work with Adam McKay previously.
No details on the story were revealed, and honestly, while I remember the script being funny, the story escapes me after reading it seven years ago. But I do remember that Holmes and Watson were not particularly friendly with each other, so we could be looking at another conflict between them akin to Step Brothers, though maybe slightly less childish. It's unclear if the comedy will go for an R-rating or stick to the PG-13 side of things, but since Reilly and Ferrell are at their best when they can really cut loose, I hope it's the former.
Deadline reveals Holmes and Watson is coming together quickly now over at Sony Pictures with production president Sanford Panitch and Tom Rothman hoping to have production being right after Thanksgiving this year. Since they've had a completed script for years, it likely only needs a polish before going in front of a camera, and it should stand out over the other Sherlock adaptations we've seen over the years since it's the only flat out comedy take on Arthur Conan Doyle's classic detectives.