'Popstar' Deleted Scene: Andy Samberg Takes A Stand Against Grumpasaurus Parents & Teachers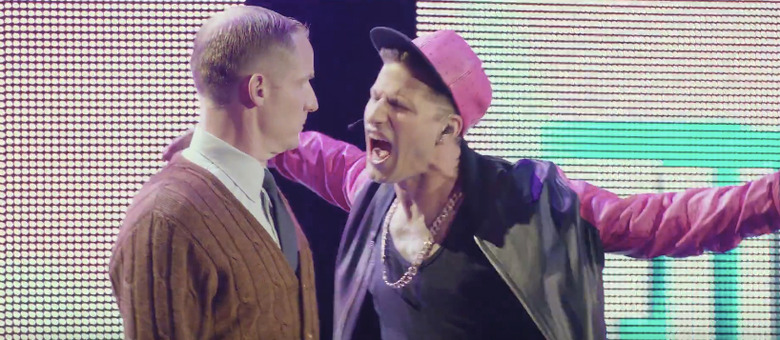 If you didn't see Popstar: Never Stop Never Stopping this summer, you're part of the problem. Universal Pictures gave us this glorious, original comedy chock full of outstanding new songs from The Lonely Island, a barrage of incredible cameos, and some of the biggest laughs of the year. And how did audiences respond? Well, they didn't, because the movie didn't even hit $10 million in its theatrical run. But next month, you can make up for it when the movie hits home video.
Popstar: Never Stop Never Stopping is coming to Blu-ray and DVD on September 13, and it will hit VOD a couple weeks earlier on August 30. To help promote the arrival of the movie, a Popstar deleted scene has made its away online featuring an entire song that didn't make the final cut of the movie (though you could have listened to it on the soundtrack). But beware that this scene is NSFW due to language, because the song is called "F*** Off," and they repeat that phrase more than a few times throughout.
These concert sequences are some of the best parts of the movie, mostly because the production value behind them is off the charts. Conner4Real feels like a real pop star, and his concerts have all the bells and whistles of real concerts from some of today's biggest musicians. The authenticity behind this music industry mockumentary is what makes the comedy work so well, and all the cuts to the crowd singing the song along with Conner helps to sell it even more.
In a summer of disappointing sequels and blockbusters, Popstar went by the wayside when it probably should have gotten a comfortable early spring or fall release so it didn't get buried by all the other summer movies. So if you missed Popstar in its theatrical run, you really should make up for it by at least renting the movie when the time comes. If you need more convincing, read my glowing review of the comedy right here.
Universal Pictures' Popstar: Never Stop Never Stopping is headlined by musical digital-shorts superstars Andy Samberg, Akiva Schaffer and Jorma Taccone, collectively known as The Lonely Island. The comedy goes behind the scenes as singer/rapper Conner4Real (Samberg) faces a crisis of popularity after his sophomore album flops, leaving his fans, sycophants and rivals all wondering what to do when he's no longer the dopest star of all.
The latest comedy from blockbuster producer Judd Apatow (Trainwreck, Superbad, Knocked Up) co-stars Sarah Silverman, Tim Meadows and Maya Rudolph and many of the biggest names in comedy and music in cameo performances. Co-directed by Schaffer and Taccone and written by The Lonely Island trio, Popstar is also produced by Rodney Rothman (producer of Get Him to the Greek, Forgetting Sarah Marshall; co-writer of 22 Jump Street), as well as Samberg, Schaffer and Taccone.
Popstar: Never Stop Never Stopping hits Blu-ray and DVD on September 13 and VOD a couple weeks earlier on August 30.