Watch All Seven 'Star Wars' Fan Film Award Winners, From Live-Action To Animation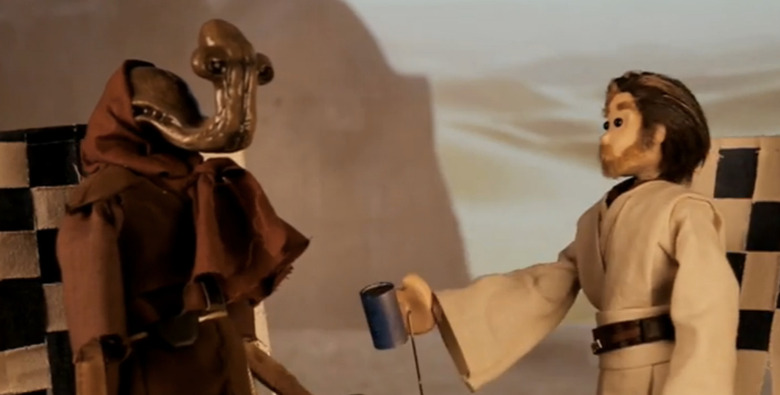 There are Star Wars fan films all over the internet. While an overwhelming amount of them aren't great, you can't deny the passion of these fans and their dedication to creating a story set within the universe they love. There are so many Star Wars fan films from these dedicated lovers of the sci-fi saga that there are awards given out by Lucasfilm every single year. It's a high honor for Star Wars fans, and now you can watch all seven of the films that took home awards this year, ranging from impressive live-action to stylish animation.
Watch the Star Wars fan film award winners after the jump
TK-436 A Stormtrooper Story
The gritty tale of an Imperial stormtrooper who is forced to confront his past in the heat of a battle. Winner of the 2016 Filmmaker Select Star Wars Fan Film Award.
The Sable Corsair
The crew of the smuggler ship The Sable Corsair fight for survival on a mysterious, hostile planet. Winner of the 2016 Audience Choice Star Wars Fan Film Award.
The Big Question
Rey can finally confront Luke with all of her questions. The old Jedi Master, however, isn't exactly thrilled about laboriously explaining complicated matters like the Force. Just when Rey wants to have her most burning question answered, Artoo brings up a completely new topic...Winner of the 2016 Best Animation Star Wars Fan Film Award.
Force or Faith
With the growing number of Jedi, Sith & Force-sensitive fans, we wondered; how dedicated is each fan? How far are they willing to go in order to show their passion and allegiance to the Force? This non-fiction, motion graphic film takes a fun look at the Force, its followers & maybe a new religion. Winner of the 2016 Best Non-Fiction Star Wars Fan Film Award.
Star Wars: Generations
A young boy and his grandfather bond over the joy of Star Wars, and how it brings us all closer together, no matter how different we are. Winner of the 2016 Spirit of Fandom Star Wars Fan Film Award.
Ben in the Desert: Jawas Are Bad Neighbors
The Rebellion has begun! Darth Vader is born! All this rad stuff is happening to everyone....except for Obi Wan Kenobi who is on Tatooine where he will spend the next eighteen years as a glorified babysitter...from afar...because he's like not really supposed to talk to Luke...but whatever...Winner of the 2016 Best Comedy Star Wars Fan Film Award.
Star Malice Wars
Alice, her sister, dad, and family droid, "Battle Bunny" combat Imperial forces in an attempt to rescue her imprisoned mother. Winner of the 2016 Best Visual Effects Star Wars Fan Film Award.
If you don't go into these movies expecting Academy Award-winning short films, then you just might have some fun. But most of these movies still lack a lot of the elements that make short films truly compelling. What do you think?