'Doomed,' A Documentary About Roger Corman's Unreleased 'Fantastic Four' Movie, Is Getting A Release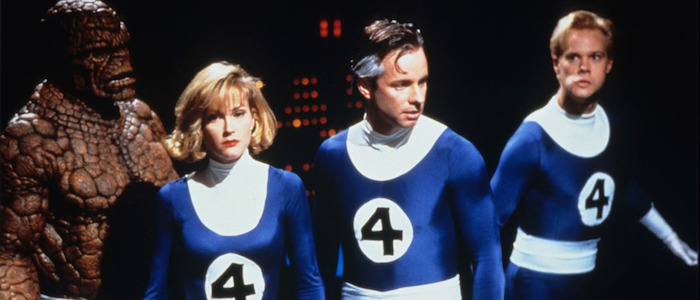 In 1994, legendary B-movie maestro Roger Corman produced a low-budget film adaptation of Marvel's Fantastic Four comic book. It was never officially released in theaters or on home video. The story of this production and its sad, strange aftermath is the subject of a new documentary called Doomed, which has just received an official release date for later this year.
Directed by Oley Sassone, Fantastic Four was thrown together for one reason and one reason only: it was a cheap attempt to hold on to the rights for these characters before they could revert back to Marvel. The film was never intended for release, a fact that wasn't shared with the bulk of the movie's cast and crew. If this sounds familiar, it's because history kind-of, sort-of repeated itself just last year, when Josh Trank's disastrous Fantastic Four movie arrived in theaters after racing against a similar clock. These characters were tough to crack in 1994 and they're tough to crack today.
If you aren't familiar with the 1994 version, here's the trailer that actually played in theaters. It's...not good.
And here's the trailer for Doomed, which is chock-full of talking heads reminiscing about this strange low-budget production and how everyone involved actually did their best to make a good movie under the circumstances.
Anyway, Doomed as acquired by Uncork'd Entertainment, who have announced that the film will arrive on VOD and other digital services on October 11, 2016 before hitting DVD on December 20, 2016, which is prefect holiday timing for the person in your life who loves documentaries about unreleased superhero movies produced solely to maintain hold of film rights. Here is Uncork'd Entertainment president Keith Leopard on this film:
The average moviegoer doesn't know that, ten years before releasing Tim Story's version, Roger Corman was asked to produce a Fantastic Four movie. Unbeknownst to cast and crew, the film was never going to be released though – and for a variety of reasons. Doomed! is such a compelling documentary – and not just for comic book movies but anyone intrigued by the ins and outs of Hollywood and business. In short, it's a Fantastic movie.
Despite never seeing the inside of a movie theater or an official home release, Corman's Fantastic Four is widely available in bootleg form and can be watched on YouTube right now if you have 90 minutes to burn on a film that is oh-so-very not good. As far as bad movies go, it's fascinating one, which makes a documentary about its creation a must-watch for fans of strange Hollywood stories.