'Arrival' Trailers: Denis Villeneuve Sends Amy Adams To Talk To Aliens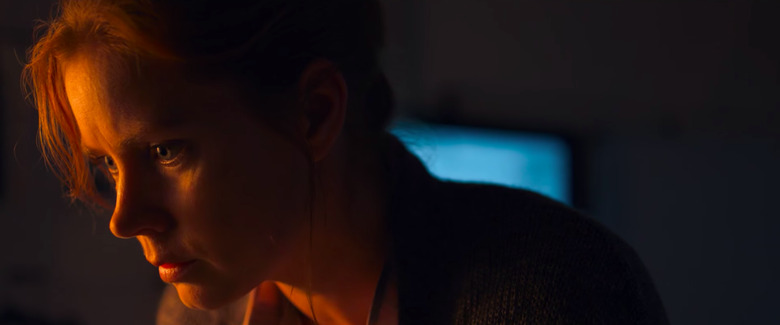 What with all the Blade Runner 2 news swirling around, it's been easy to forget that Denis Villeneuve has another, very different sort of sci-fi film coming out in the meantime. But over the past few weeks, Paramount has made a concentrated effort to get Arrival on moviegoers' radars, and after seeing some intriguing footage earlier this month, we won't be forgetting about this one again.
The hard sci-fi drama unfolds in the modern world, which is forever changed when a group of mysterious aliens touch down in various locations around the globe. Amy Adams leads the cast as a linguist tasked with making contact with these extraterrestrials, and Jeremy Renner, Forest Whitaker, and Michael Stuhlbarg also star. Those names alone are probably enough to sell this project to some moviegoers, but in case you need some more convincing — or in case you're just curious to see more — a couple of new Arrival trailers have landed. Check 'em out below.
Paramount and Sony dropped two Arrival trailers today. Each one features some different dialogue and footage, so if you're interested in Arrival you'll definitely want to watch them both.
In an earlier interview, Adams explained how Arrival isn't just your typical sci-fi blockbuster:
This isn't a graphic-novel universe or creating a new universe. This happens in our world today, as it exists. Not having to transport myself to a universe where superheroes exist, which is also fun, really helped me ground the character and the experience.
The Arrival trailers lean into that real-world sense of complexity. This isn't Independence Day — planet Earth isn't banding together to go out and kick some alien ass. The arrival of these extraterrestrials has people frightened and confused, and any attempts to understand or communicate with these creatures are complicated by the misunderstanding, distrust, and competition between different groups of humans.
Arrival lands in theaters November 11.
When mysterious spacecrafts touch down across the globe, an elite team – lead by expert linguist Louise Banks (Amy Adams) – is brought together to investigate. As mankind teeters on the verge of global war, Banks and the team race against time for answers – and to find them, she will take a chance that could threaten her life, and quite possibly humanity.