The Toy Box: Indiana Jones, Ghostbusters, Planet Of The Apes, Star Wars & 300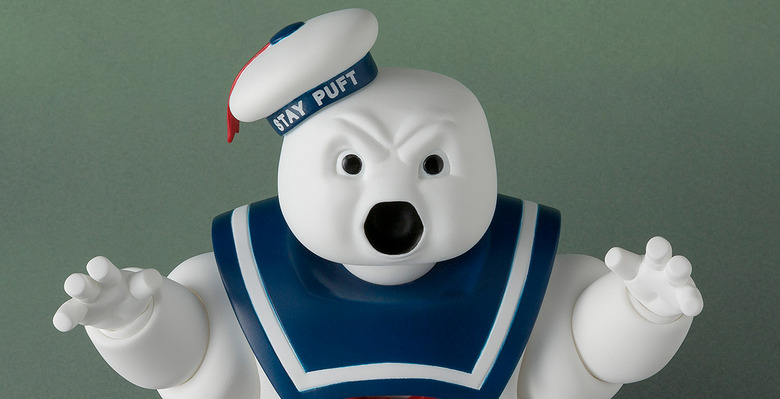 We're going to change things up with The Toy Box a bit so we can get all this cool stuff to you a little faster than once a week. Instead, we'll be rounding up some of the newest and coolest collectibles, decorations, gadgets and other memorabilia that you nerds might want for your shelves a few times a week so you can get your hands on stuff right away.
The latest installment features an Indiana Jones Funko POP Vinyl that you can only get at the theme park shops, an incredible set of new, detailed Ghostbusters statues, some lightsaber-themed housewares, an impressive figure featuring King Leonidas from 300, and a batch of exclusive Mondo goodies for Planet of the Apes.
See everything in this edition of The Toy Box after the jump.
Planet of the Apes: Mondo's Vinyl Soundtrack, T-Shirts and Enamel Pins
If you're a Planet of the Apes fan, then you're going to want to hit up a special screening of the film at select Alamo Drafthouse locations on August 30th to get your hands on some awesome Mondo goodies.
First up, a vinyl edition of Jerry Goldsmith's classic Planet of the Apes will be made available at exclusive screenings happening around the country at Alamo Drafthouse locations. This is an event-exclusive version of the soundtrack (which will be made available in another version sometime later) featuring artwork by Matthew Woodson.
But that's not all. As you can see in the gallery, there will also be enamel pins designed by Tom Whalen featuring the characters Dr. Zaius, Cornelius, Ursus and "The Lawgiver" statue. Plus, there will be two t-shirts available at the screenings. The red election-themed shirt by Jay Shaw is only available when you purchase a ticket to the screening while other shirt by Eric Powell will be sold at the event itself.
It's not clear if any of the other Mondo goods will be sold online after the event is over, so you may want to stayed tuned to MondoTees.com and their official Twitter account for any updates on that front. For a full list of participating theaters with links to by tickets, head over here.
Star Wars: Lightsaber Spatula and Wall Hangers
If you're the kind of Star Wars fan who needs as many things as possible decorating your house that show your love of the sci-fi saga, then these two items are for you.
First up, there's a new spatula from ThinkGeek with a handle modeled to look like the lightsaber wielded by Darth Vader. The actual spatula part of the utensil also has the logo laser-cut into it. And while the handle isn't made of metal like the spatula part, it's made of heat-proof plastic so you don't fuse your hand to the item while cooking. The last thing Star Wars needs is another hand incident.
Second, if you need a nerdy place to hang out coats or bags, then ThinkGeek's lightsaber wall hangers will do the trick. Each hanger is made to look like there's a lightsaber jammed into your wall, melting the material around it.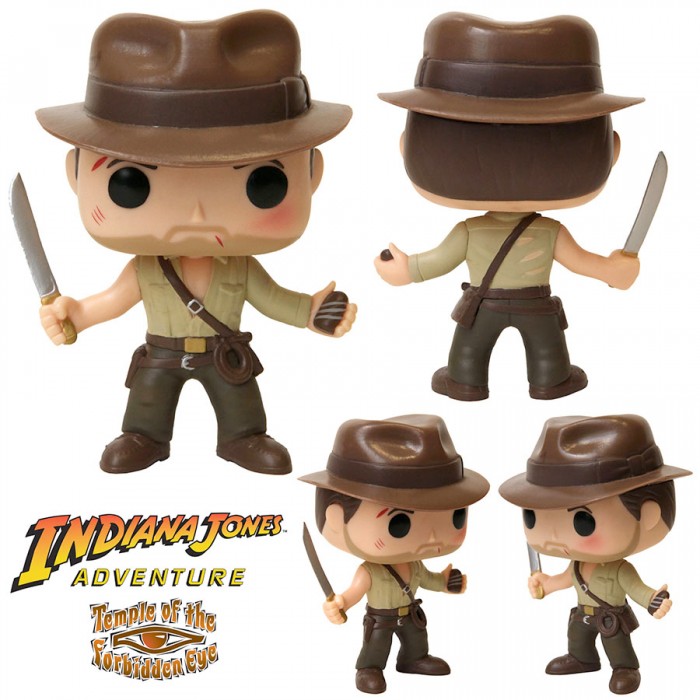 Indiana Jones: Temple of Doom Funko POP Vinyl
If you didn't get your hands on the Funko POP Vinyl of Indiana Jones that was available at Comic-Con last month (and you don't want to overpay on eBay to get it now), there's still hope to add the POP Vinyl version of Dr. Jones to your collection.
Disney Parks have an exclusive Indiana Jones figure inspired by his appearance in Temple of Doom. The figure is holding a machete and one of the sacred stones. If you want to get ahold of him for $19.99, you'll have to head to Adventureland Bazaar or Downtown Disney District on D-Street in Disneyland or you cna head to the Indiana Jones Adventure Outpost or Disney's Pin Traders at Disney World.
300: King Leonidas Sixth Scale Figure by Star Ace Toys
This is Sparta! If you need a figure that will kick some of your other collectibles into a deep, dark pit, then Star Ace Toys has you covered with their new sixth scale King Leonidas figure from Zack Snyder's fantasy graphic novel adaptation 300. The figure comes with a pair of interchangeable heads (including one screaming), some swappable hands, and removable accessories such as Leonidas' trademark helmet, battle damaged shield, bright red cloth cape and trusty spear.
The figure is expected to  be available towards the end of the year, though no price has been determined yet. You can see more images over at the official Star Ace Toys website.
Ghostbusters: SH Figuarts Stay Puft Marshmallow Man
There are plenty of Stay Puft Marshmallow collectibles out there, but none are as cool as this one. Standing at just over seven inches tall, this S.H. Figuarts figure from Bandai comes with multiple head sculpts to recreate your favorite scene as well as some swappable hands too. It's just a shame there aren't some burnt parts to go along with his angry faces, but maybe that version will come sometime down the road.
The figure is available for pre-order now for 7,344 Yen or about $72. It'll ship in January of 2017.
***
That's all for The Toy Box for now. If you're looking for some superhero goodies and other memorabilia, be sure to check out the third page of Superhero Bits or our recurring Cool Stuff articles.
Read the previous edition of The Toy Box right here.