The First 'Fast 8' Trailer Will Debut This Winter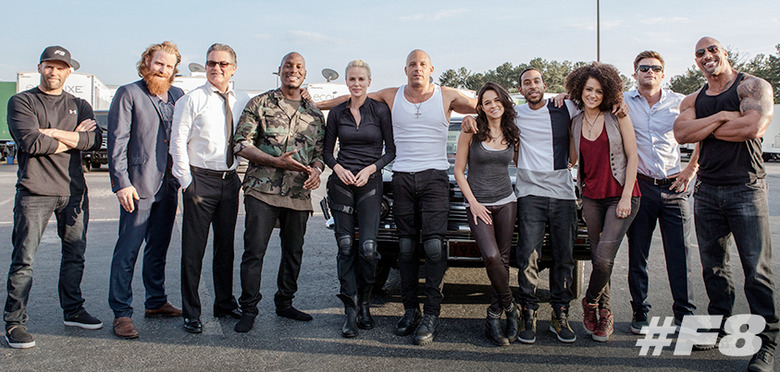 While Fast 8 has been in production over the past few months, we've been treated to plenty of cool glimpses behind the scenes featuring director F. Gary Gray and the ensemble cast hard at work, not to mention some of the awesome vehicles we'll see racing around. However, all those updates will soon be far less abundant as production is close to finishing.
This past Friday was the last #FastFriday post from the official Facebook page for the Fast and Furious franchise. Surely that will disappoint some fans, but the good news is they delivered that new photo of the cast up top, and they told us when we can expect to see the first Fast 8 trailer arrive. Unfortunately, it's going to be a while. Find out when you'll get your tease of the 2017 sequel after the jump.
Here's the post made on the official Fast and Furious Facebook page:
For our final #FastFridays post, all of us in the Fast Family wanted to thank you for coming on the ride with us during this epic production.
We began in Cuba, visited Iceland, New York and Atlanta, and as we head into our final few days of shooting, we wanted to take this opportunity to express our gratitude to those who have worked so hard over the past 100 days to bring you a movie that is going to be another incredible installment of our saga. Everything we do comes from our shared passion to bring you the very best.
Thank you Vin, who has been at the wheel since this journey began, first as star and then as producer...
And thanks to all of the cast of the eighth Fast:
Michelle, who's also been with us from the start...
Those who've joined our family along the way: Tyrese and Chris from Miami in our second film; Dwayne and Elsa, who came on board in Rio in movie five; Jason, Nathalie and Kurt from last time around; and our newest members Charlize, Scott, Kristofer and Helen...
And our brother who continues to inspire us all, Paul.
We extend our gratitude to our new director F. Gary Gray, producers Neal Moritz and One Race Films, writer Chris Morgan, and the hundreds of awesome, dedicated crew members who worked their asses off.
All of us take our work on Fast & Furious seriously, and we seriously intend to wow the world again. We'll be back in December with your first look at what we've created for you.
— Your Fast Family
So the first Fast 8 trailer will arrive sometime in December. It's not clear specifically when the trailer might debut because Universal Pictures doesn't appear to have any major releases that month with the exception of Illumination Entertainment's Sing!, and that's now the right audience for a Fast 8 trailer at all. More than likely it will debut with something like Assassin's Creed. Or maybe it will just premiere online and pop up on a variety of movies in theaters. We'll find out in a few months.
In the meantime, in case you haven't heard, there's been some beef between Vin Diesel and Dwayne Johnson on the set of Fast 8 recently. It sounds like things have been resolved for now, but you can catch up the details that have been unfurling online over the past week right here. We're bound to hear more details as time goes on, especially when everyone starts making the publicity rounds for the movie next spring.
Fast 8 is set to arrive in theaters on April 14, 2017.