'Transformers: The Last Knight' Reveals Bumblebee's New Autobot Form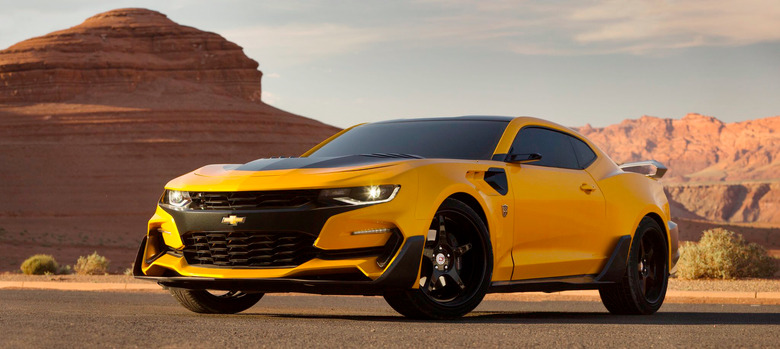 The reveals from Transformers: The Last Knight just keep coming as production continues on Michael Bay's action sequel up in Michigan before heading to the United Kingdom in the near future. We'll have plenty to talk about when the embargo breaks on our set visit from over a week ago, but until then, we have our official first look at the new Autobot form of the reliable Bumblebee. The new vehicle form for the trusty yellow car was revealed awhile back, and now we get to see what the custom Camaro looks like when it's transformed into a robot.
Check out the Transformers The Last Knight Bumblebee Autobot form after the jump.
Here's the concept art posted to the official Transformers franchise Facebook page: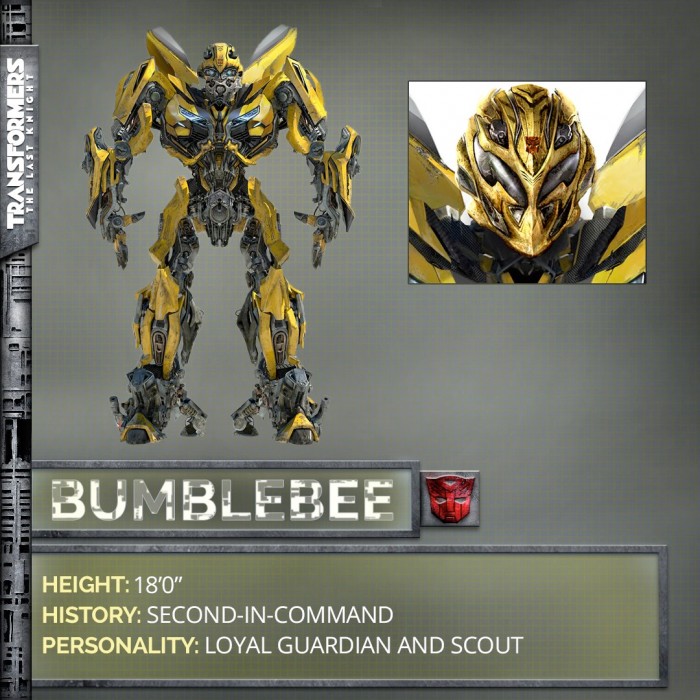 Bumblebee doesn't look much different than the previous forms we've seen in the four other Transformers movies. He still has the flaps on his back that resemble wings, but his face armor looks like it's been modified to resemble an insect even more this time.
Just like Bumblebee, the Autobot Drift has had both his vehicle form and his robot form revealed. In addition, the Decepticon Barricade had his robot form revealed (to go with his new vehicle form) along with the return of Hound, this time resembling some sort of medical vehicle. Otherwise, we've only seen the vehicle form for the Decepticon Onslaught and the robot form for the new Megatron.
But perhaps the biggest reveal was the fact that Hot Rod is entering the movie universe, and he looks cool as hell. He won't be the only new Transformer on the scene as we've also been introduced to the little Vespa scooter called Squeeks. We'll have more details on him when our set visit report debuts on Tuesday, August 16.
The human cast of the Transformers sequel has yet to be seen in any official photos (though Michael Bay has posted a couple sneak peeks here and there along with the Transformers Snapchat). Mark Wahlberg is back as Cade Yeager with Josh Duhamel returning as Lieutenant Colonel Lennox along with Tyrese Gibson in some capacity. New cast members include Isabela Moner, Jerrod Carmichael, Laura Haddock and Sir Anthony Hopkins.
Michael Bay is at the helm of this sequel yet again with a script from Iron Man scribes Art Marcum & Matt Holloway and Ken Nolan (Black Hawk Down). Transformers: The Last Knight arrives on June 23, 2017.