'Deadpool 2' May Be Eyeing Kyle Chandler To Play Cable, Domino Is Coming Too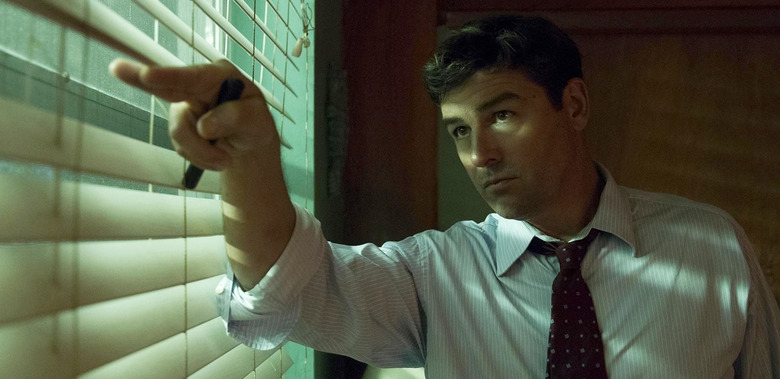 In the months since Deadpool hit theaters earlier this year, details have been pretty sparse on the development of Deadpool 2. The sequel is definitely in development and the first draft of the script was expected to be done very soon as of the end of June. But even without any story details, the scene at the end of the credits of the first movie keyed us in to the introduction of the character Cable, and plenty of names have been thrown into the ring as candidates. Now one more has entered the mix.
Bloodline and Super 8 star Kyle Chandler has reportedly been mentioned in conjunction with the role of Cable as Deadpool 2 has been developing, though it doesn't sound like he's officially in negotiations to take the role just yet. Find out more about the Deadpool 2 Cable casting after the jump.
On the latest episode of Meet the Movie Press (via ScreenRant), reporter Jeff Sneider mentioned that he's heard Chandler's name several times with regards to the Cable role in Deadpool 2. However, it should be noted that since this information was merely mentioned on this web series and not used as a story in the trades that it's probably a little less reliable. That being said, that doesn't mean Chandler isn't still in the running for the role.
Kyle Chandler isn't exactly a household name, but he has a strong presence on the screen. With his authoritative turns in films such as The Wolf of Wall Street, Broken City and Zero Dark Thirty, Chandler has proven that has has the dramatic chops to pull off an action role like Cable. In addition, his goofier role in Peter Jackson's King Kong shows that he has a funny side that will mesh well with Ryan Reynolds too.
Chandler is the only name that has been mentioned as being in the running for the role so far, and Sneider says we should take his potential involvement with a grain of salt for the time being. Meanwhile, plenty of other actors have thrown their name into the ring as possible contenders. Stephen Lang was the first, but he's since cast doubt on the potential of his casting due to his part in the developing Avatar sequels. But there's also Ron Perlman and Dolph Lundgren who could take the role too. Still no word on whether or not the suggestion of Mel Gibson from the Deadpool credits scene will be pursued, but that would be great.
For those who aren't familiar with Cable, he's a character who has quite a history with Deadpool. The two had their own comic book series that ran for 50 issues, but before that, Deadpool first appeared on the page of Marvel Comics in New Mutants #98. In that issue, he was tasked with killing Cable, who happens to be the son of Scott Summers (Cyclops) and a clone of Jean Grey, born as a result of Mr. Sinister manipulating their family lineage in order to find a mutant powerful enough to defeat Apocalypse. It's not likely that history will be brought up in Deadpool 2, but it would make for an interesting link to the X-Men franchise, especially considering the credits tease from X-Men: Apocalypse.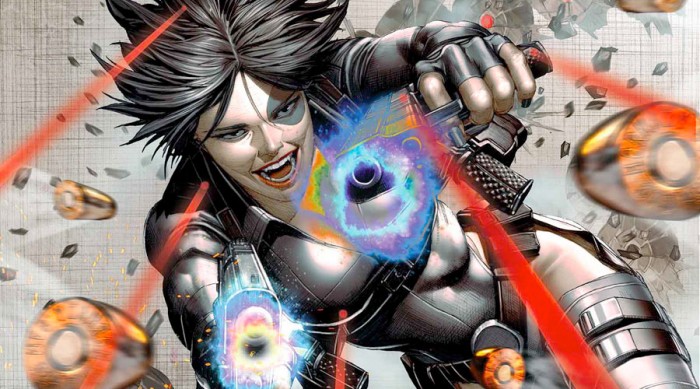 Cable won't be the only new character on the scene as Jeff Sneider also revealed that Domino will be part of the sequel. In the comics, the character is part of X-Force, the team that may also get its own movie sometime in the future. Domino is the result of a top-secret government breeding program intended to develop the perfect weapon, giving her the power to subconsciously and psionically initiate random telekinetic acts that affect probability in her favor by making improbable (but not impossible) things occur within her line of sight. That's how Wikipedia describes her ability, and they explain it a little more easily:
"For example, if debris falling from the sky was about to hit her in the head, she would still be hurt if she stood still. However, if she tried to avoid it, she would move perfectly to avoid each and every piece about to hit her. In addition, if Domino were to stand before a hail of bullets she would be a bullet-riddled corpse. Instead, she must take action, attempting to avoid the gunfire, and would miraculously bob-and-weave just perfectly to avoid every single shot."
In addition, Domino is a skilled marksman with a variety of weaponry, and she also possesses plenty of combat and martial arts training, making her a perfect companion to Deadpool. Supposedly The Martian star Mackenzie Davis has been in consideration for the role, but she's in the same position as Kyle Chandler without any official negotiations in the works. She's another rising star who has been acting for some time now with roles in That Awkward Moment, What If and Smashed. Davis has yet to take on a major role like this, but she is also supposed to star in Blade Runner 2, so she's certainly on her way to being a blockbuster star.
Anyway, we still don't have a release date for Deadpool 2, so stay tuned to see how all this shakes out.