Showtime Unveils Jim Carrey-Produced Stand-Up Dramedy 'I'm Dying Up Here' [TCA 2016]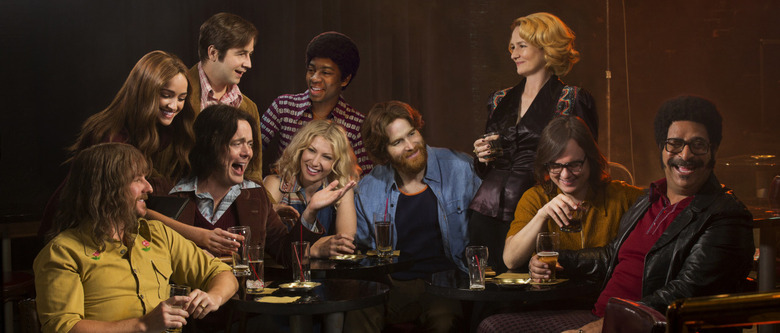 Showtime unveiled a first look at their upcoming series I'm Dying Up Here, a drama about standup comics in the 1970s, during their Television Critics Association session. Footage showed comics interacting with difficult audiences, and ranting about it over late night meals. One scene mentioned Richard Pryor coming in to do a set. Speaking with reporters after his panel, Showtime Networks, Inc. CEO David Nevins said appearances by famous comedians would be minimal.
"There may be some," Nevins said. "We're mostly going to avoid it. Johnny Carson is in the clip. Famous people may be backgrounded in the show. I'm Dying Up Here is based on a book of nonfiction and it's about the early days of the Comedy Store, Mitzi Shore, Robin Williams and David Letterman, that period. We chose, sort of like we did [when I produced] Friday Night Lights, to change the real people's names. There's no Robin Williams character, David Letterman character. There may be characters who have aspects of those people but they're all sort of composite, reconstructed characters. Famous people may be in the background but that's not really a driving idea on the show." 
Melissa Leo, Ari Graynor, Clark Duke, RJ Cyler, Sebastian Stan and more are among the cast members whom Nevins expects to break out. Graynor, for example, plays a version of several female comics from the book. "It's a composite," Nevins said. "I think Ari Graynor's going to be a breakout in this show. She's really interesting, really talented."
Nevins added that executive producer Jim Carrey has worked closely with all the actors playing standups. Carrey was a regular at The Comedy Store in the '80s, so the project is very close to him.
"He's been pretty involved," Nevins said. "The cast is an interesting combination of standups and actors so taking really seriously the teaching of actors to do standup. RJ Cyler who you saw [in the clip] or Ari Graynor, Jim Carrey spent a lot of time at comedy clubs with those actors getting them comfortable doing standup, getting them better and better and better at it."
During his opening remarks, Nevins said this about I'm Dying Up Here:
It's in production now, and the show is shaping up to be a really interesting combination of sharp comedy and dark drama that reflect the troubled personalities that make comedy such an exciting and subversive art form.
Nevins expects to present I'm Dying Up Here to the Television Critics Association in January with a premiere date announcement presumably to follow.