'Passengers' First Look: Jennifer Lawrence & Chris Pratt Make Space Travel Look So Pretty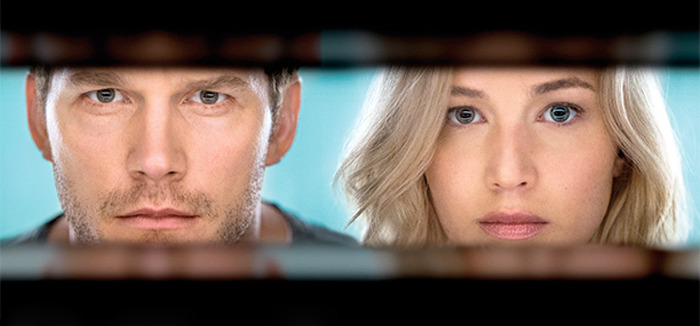 Jennifer Lawrence and Chris Pratt are two of the most popular and good-looking stars working in Hollywood today. Both have major franchises to their name, the admiration of droves of fans, and now all those audiences are going to lose their mind when they see these two fall in love in deep space.Passengers is an original sci-fi romance from Prometheus scribe Jon Spaihts and The Imitation Game director Morten Tyldum which follows a man (Pratt) who is just one passenger on a colony ship full of thousands in a cryogenic sleep. However, the man finds himself woken up due to a system malfunction, leaving him all alone on this big ship. Desperate for some company, he decides to wake another sleeping passenger, and of course he picks a character played by Jennifer Lawrence.
Now a couple Passengers photos have surfaced online with Chris Pratt and Jennifer Lawrence looking as respectively handsome and pretty as you'd expect. Even a big ole spacesuit doesn't make Chris Pratt look goofy.
Here's the two photos from Passengers thanks to Entertainment Weekly:
Surely after some time goes by these two will start look a bit disheveled. After all, they're meant to spend decades as the only two people awake on this ship. But maybe they break into the supply cargo or something so they have enough make-up, hairspray and handsome cream to keep looking so fresh. Or maybe the ship is set up like the one from WALL-E and there's all sorts of restaurants, shops and things like that to keep people entertained when they're not asleep. These pictures don't really enlighten us in that regard.
Passengers has taken awhile to get to the big screen after developing for a few years. At one time Keanu Reeves was attached to the lead role with actresses like Reese Witherspoon and Rachel McAdams once attached for the female lead. But the interest in the script never waned. Director Morten Tyldum discusses what's so appealing about the project:
Yes, it was a popular script. It's one of those stories that really grabs you and you fall in love with it. It's very smart and funny and clever and such a page turner I couldn't put it down. Every 10 pages, something new happens! At the same time it's a very intimate movie while taking place on this epic scale. For me, it's a story about what's important to live a full life. What are the things we need as humans? It's not afraid to entertain but at the same time it asks big questions about what does it mean to really feel happy. Every generation has its love story. I feel like this is it. I had to do it.
That feels like he's over-selling it a bit, but the script was one of the more popular screenplays that never went away in Hollywood, landing on the Black List in 2007. Plus, the fact that it caught the attention of Chris Pratt and Jennifer Lawrence at a time in their careers when they could do anything they wanted speaks to just how alluring of a project it was.
Passengers arrives on December 21.