'Sausage Party' Almost Had A Sean "P. Diddy" Combs Cameo, So Why Did He Back Out?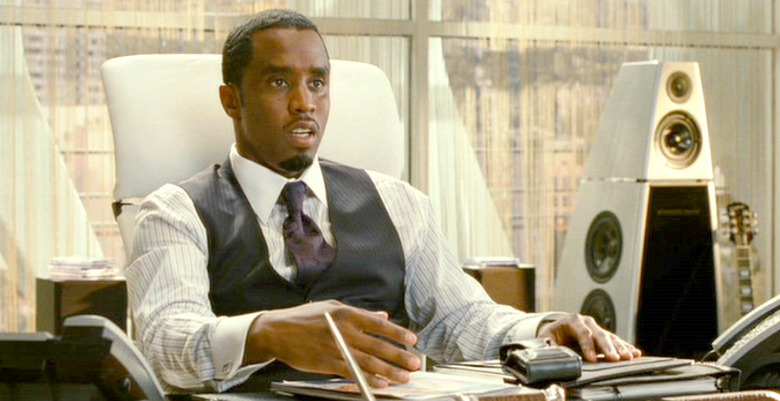 The cast of Sausage Party has one of the most impressive voice casts of any animated comedy. Seth Rogen and Kristen Wiig are the leads, but the rest of the food (as well as a hygienic item and a couple humans) are brought to life by Jonah Hill, Bill Hader, Michael Cera, James Franco, Danny McBride, Craig Robinson, Paul Rudd, Nick Kroll, David Krumholtz, Edward Norton, Salma Hayek, Anders Holm and co-directors Conrad Vernon and Greg Tiernan. However, there's one voice who was once set for a cameo but fell away for a perplexing reason.
Sean Combs (aka P. Diddy, Diddy, Puff Daddy, Puff the Magic Dragon or whatever he's calling himself this year) was once slated to have a voice role in Sausage Party. But as one certain detail on the project became more clear to him, the rapper/actor ended up falling away from the project. Find out why we didn't get a Sausage Party P Diddy cameo after the jump.
During a Q&A following a screening of Sausage Party at Comic-Con back in July, Seth Rogen was asked if there was anybody who was asked to be part of the movie but ended up passing due to the film's content. Rogen explained that Sean Combs was once totally on board to star in the film, but when he decided not to follow through, it wasn't because of the film's content.
Sean Combs had a prominent role in Get Him to the Greek, starred in a parody trailer for Rush Hour 4: Face/Off 2 and has made appearances in Muppets Most Wanted and It's Always Sunny in Philadelphia. So what possibly could have kept him from taking a role in Sausage Party? It turns out it was simply because the film was animated.
Seth Rogen explained that Combs had been slated to voice a bottle of Courvoisier. That might seem a little on the nose, but once you see the movie, you'll see that there are a lot of characters who were created just like that. However, once it was clarified for Combs that the movie was animated, he was no longer interested. Apparently the idea of Seth Rogen in a hot dog suit and the rest of the actors somehow playing live-action food was what Combs had in his head.
Honestly, the idea of seeing all the actors making this movie while wearing cheap food suits sounds pretty amusing. But there's no way they would have been able to pull off the raunchy insanity that unfolds in Sausage Party if there were real actors and actresses inside food suits. That would be like making some kind of fetish pornography when all is said and done. But sadly, that means we will probably never get to see a Courvoisier bottle voiced by Sean Combs. Instead we'll have to settle for Bill Hader as Firewater, a Native American bottle of whiskey.