Whatcha Gonna Do When 'Bad Boys 3' Gets A New Title And Release Date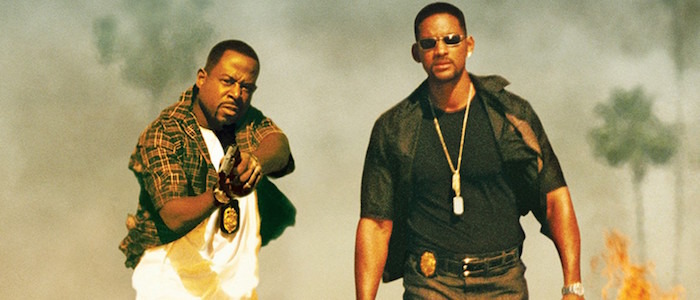 A third Bad Boys film has been in development since at least 2009 and every year or so has brought a fresh news item about behind-the-scenes conversations and negotiations and ever-shifting release dates. The project took on new life last June when director Joe Carnahan was hired to replace Michael Bay, which was quickly followed by news of Bad Boys 3 and Bad Boys 4 arriving in 2017 and 2019. While Carnahan has continued to tease the film on social media, updates have been scarce since then.
That brings us to right now: it seems that Bad Boys 3 has a title that isn't Bad Boys 3 and a release date that isn't the previously announced release date. It's not much, but hey, momentum.
According to Exhibitor Relations, the third adventure of Will Smith and Martin Lawrence's reckless law enforcement officers is now titled Bad Boys For Life and will be released on January 12, 2018. Considering that the previously announced June 2, 2017 release date would have seen it going head-to-head with Wonder Woman, that seems like a smart move. Plus, meeting that date wouldn't give Carnahan much time to orchestrate the necessary mayhem audiences would expect from another chapter in this hugely irresponsible, massively destructive, and gleefully immature series.
That new title is a reference to the to a quote from Smith's Mike Lowery in Bad Boys II: "We ride together, we die together. Bad boys for life." It also continues the trend of many modern sequels eschewing a number in the title. Think Independence Day: Resurgence or A Good Day to Die Hard or maybe a movie that more people actually like.
This is the part of the article where I admit that I'm not a fan of Bad Boys II, but I do admire its grotesque nerve and commitment to bombast. It is maybe second only to Pain and Gain as the Michael Bay-est Michael Bay movie ever made. From the extreme violence and the hyperactive camera to the lowbrow humor and disregard for basic human empathy, he is present in every single scene. And then, just when you think it's over, a fourth act appears out of nowhere and the movie continues for another forty minutes, concluding with Smith and Lawrence dismantling an entire shantytown in the most irresponsible car chase ever put on film. It's a jaw-dropping movie. I don't like it, but I remain in awe of it.
And that's why I'm very curious about how Carnahan will steer this ship. Like Bay, he makes stylish and in-your-face action movies and he's very much prone to bombast. The A-Team and Smokin' Aces are preposterous delights. But unlike Bay, Carnahan is capable of restraint and discipline, as seen in movies like Narc and The Grey. Bad Boys For Live will undoubtedly try to top the extreme nature of its predecessor, but I trust Carnahan to know when to rein things in and when to go truly wild.
If Bad Boys For Life is going to make that release date, it's going to start getting its act together relatively soon. We'll keep you updated with any new developments.