Han Solo's 'Star Wars Story' Looking To Cast A Young Lando Calrissian [Updated]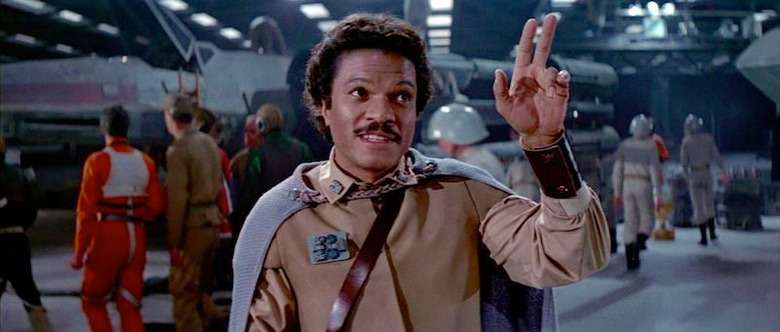 UPDATE: Birth Movies Death is reporting that Community and The Martian star Donald Glover is currently Phil Lord and Chris Miller's number one choice to play the young Lando. While he has yet to commit to the part and he could easily say no, it's easy to imagine Glover stepping in for Billy Dee Williams. He has the right mixture of charm, humor, and dramatic chops.
The original article follows.
You know him as Han Solo's old buddy, and he once owned the fastest hunk of junk in the galaxy before it ended up in the custody of the famous smuggler. Therefore we couldn't have a Han Solo spin-off without bringing Lando Calrissian into the mix.
A new report indicates that casting for the Star Wars Story that will focus on the younger days of Han Solo is looking to fill a role going by the code name "Chance," and that character is actually meant to be young Lando Calrissian, the future administrator of Cloud City.
Details from TheWrap's report are sparse on just how big of a role young Lando Calrissian would play in the second Star Wars Story spin-off, but since he and Han Solo have a long history that was hinted at in The Empire Strikes Back and Return of the Jedi, we wouldn't be surprised if he had a key role in whatever story we'll see unfold. At the very least, we might get to see that game of sabacc in which Lando lost the Millennium Falcon to Han. Of course, that's a detail that is now considered part of the non-canon Star Wars Legends, so maybe there will be a new explanation as to how Lando lost the ship to his friend.
Han Solo perfectly describes Lando as a "card player, gambler, and scoundrel," and that's about all we need to know. Even though Lando appears to have a legitimate operation as the administrator of Cloud City, he wasn't beyond cutting a regretful deal with the Empire in order to keep them out of his hair.
Billy Dee Williams played Lando Calrissian in the original Star Wars trilogy, and with the exception of Han Solo, he was easily the most charming, cool character in the galaxy. Complete with a cape and mustache, Lando Calrissian wasted no time trying to charm Princess Leia, and he even stayed cool under the pressure of the Empire when they forced him to create a trap for our Rebel heroes, making the deal that he struck worse all the time. It's quite an iconic role, and it's one that could be just as difficult as to recast as Han Solo.
More recently, Williams was able to reprise the role in the Star Wars Rebels episodes "Idiot's Array" and "Siege of Lothal." If the role of young Lando Calrissian only required his soothing voice, then Williams could still play Lando. But alas, age has gotten the best of him, and he's no longer the young scoundrel he was.
If Anthony Mackie was 10 years younger, he'd be the perfect man to play Lando Calrissian. But with Alden Ehrenreich playing a Han Solo in his mid-20s, I'm pretty sure Lucasfilm is going to want someone much younger to play the role. Or maybe someone should just give Keegan-Michael Key a call:
We might have some options for you to consider to play young Lando Calrissian sometime tomorrow, so stay tuned.
Phil Lord & Chris Miller are directing the Han Solo movie for release on May 25, 2018.