The New 'Rogue One: A Star Wars Story' Trailer Is Here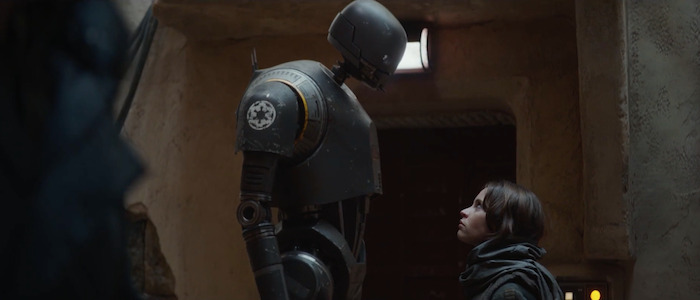 No time for fancy introductions this time around! As promised, the new trailer for Rogue One: A Star Wars Story premiered during the Olympics and has made its way online. Check it out below.
By now, you are probably familiar with the plot of the first Star Wars spin-off film, which takes place shortly before the events of the 1977 original. A group of rebels soldiers, led by Felicity Jones' Jyn Erso, embark on a desperate mission to steal the plans to the Empire's terrifying new weapon, the Death Star. We know that these plans ultimately end up in the hands of Leia Organa and eventually R2-D2, but Rogue One will explain exactly how that came to pass.
Erso's motley band of soldiers, spies, robots, and assassins consists of seasoned Rebel Alliance operative Cassian Andor (Diego Luna), unhinged security droid K-2SO (Alan Tudyk), ill-tempered pilot Bodhi Rook (Riz Ahmed), blind warrior Chirrut Îmwe (Donnie Yen), and blaster-toting tough guy Baze Malbus (Jiang Wen). Their chief opposition comes in the form of Director Orson Krennic (Ben Mendelsohn), the high-ranking imperial commander in charge of the Death Star project who commands his own squadron of elite soldiers known as Death Troopers.
Director Gareth Edwards (of Monsters and Godzilla fame) had an interesting challenge ahead of him with Rogue One: how do you make a movie set in the Star Wars universe that, by design, doesn't feel like previous Star Wars movies? After all, there are no Jedi in this film and any members of the Skywalker clan (oh, like Darth Vader) are kept on the sidelines. The focus is placed almost entirely on characters we have never seen before. It'll be fascinating to watch how audiences react to this film and whether or not they'll embrace an unfamiliar corner of this massive universe.
Here's the official synopsis for the film:
From Lucasfilm comes the first of the Star Wars standalone films, Rogue One: A Star Wars Story, an all-new epic adventure. In a time of conflict, a group of unlikely heroes band together on a mission to steal the plans to the Death Star, the Empire's ultimate weapon of destruction. This key event in the Star Wars timeline brings together ordinary people who choose to do extraordinary things, and in doing so, become part of something greater than themselves.
Rogue One: A Star Wars Story is directed by Gareth Edwards and stars Felicity Jones, Diego Luna, Ben Mendelsohn, Donnie Yen, Mads Mikkelsen, Alan Tudyk, Riz Ahmed, with Jiang Wen and Forest Whitaker. Kathleen Kennedy, Allison Shearmur and Simon Emanuel are producing, with John Knoll and Jason McGatlin serving as executive producers. Rogue One: A Star Wars Story opens in U.S. theaters on December 16, 2016.
For additional reading, we have previously broken down the first theatrical trailer and the behind-the-scenes footage that played at this year's Star Wars Celebration. Look for our full breakdown of this new Rogue One trailer shortly.