Theme Park Bits: Death Eaters Coming To Universal Studios, New Halloween Horror Nights Mazes, And The End Of A Beloved Parade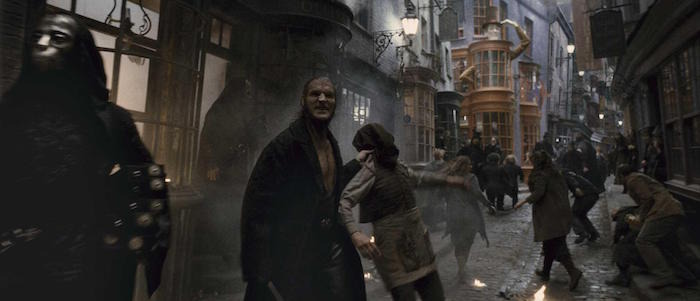 In this edition of Theme Park Bits:
The Wizarding World of Harry Potter in Universal Studios Japan is getting visited by Death Eaters.
Universal Studios announces a trio of original Halloween Horror Nights mazes.
Disney patents a projector drone for potential nighttime shoes.
Big Thunder Mountain closes for refurbishment.
The Main Street Electrical Parade is ending very soon.
A quick look at the new way to enter Disneyland.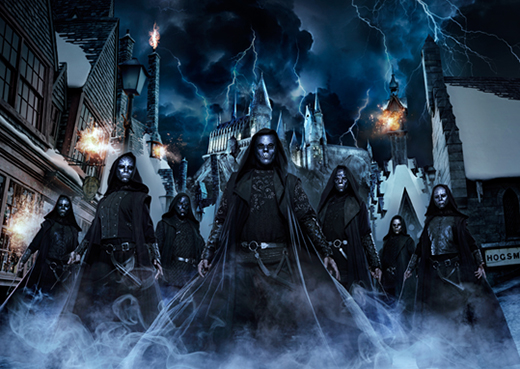 The joy of Universal Studios' Wizarding World of Harry Potter has always been the immersion factor. Once you step into the land, the illusion that you are actually in a magical English village is shockingly complete. It's easy to get lost in it all and let reality slip away for a few hours. Now, Universal Studios Japan is looking to add a temporary element to their version of the this ever-popular theme park land: for a limited time, Death Eaters (otherwise known as the followers of Voldemort) will invade the village of Hogsmeade. Here's how this dark new show is being described:
"Death Eater Attack" joins the line-up as a new piece of entertainment at The Wizarding World of Harry Potter. When night falls, this peaceful, cheerful world of magic transforms experiencing moments of darkness. The Death Eaters appear in Hogsmeade wearing black hoods and masks. Guests can experience the thrill and terror of coming face-to-face with the magical might of The Death Eaters, discovering an unprecedented feeling.
The Death Eater Attack show will begin on September 14, 2016 and run for 54 days, making this whole thing (rather appropriately) a Halloween event. I'm reminded of when Universal Orlando used to hold their Halloween Horror Nights event at Islands of Adventure and the Marvel Superhero Island section would be transformed into a world where the bad guys won, allowing guests to brush shoulders with various supervillains. If this all sounds a little too tense for you (not everyone has to be confronted by evil wizard racists in scary costumes), know that other seasonal entertainment is being offered, including new Halloween menu items and tick or treating for children. Right now, this event is only happening at Universal Studios Japan, but I wouldn't be surprised to see it head stateside in the future if things go well this year.
Universal Studios Orlando and Universal Studios Hollywood may not be getting Death Eaters this Halloween, but their Halloween Horror Nights line-up is looking as stacked as ever. In addition to mazes based on Halloween, Krampus, The Exorcist, The Texas Chain Saw Massacre, and The Walking Dead, three new haunts based on original concepts have been announced. While the mazes based on movies are always fun, the mazes that are allowed to invent completely original monsters and scares are my personal favorite – you literally have no idea what you're going to get.
The trailer above is for Ghost Town: The Curse of Lightning Gulch, which is described thusly:
When lightning strikes, the curse of Lightning Gulch comes to life and this ghostly town appears. These doomed souls—who once went searching for gold—found death and destruction. And now they seek others to join them. As thunder cracks, flashes of lightning will lead your way through this treacherous wild west nightmare. Good luck!
And then there's Tomb of the Ancients:
An ancient evil has surfaced and immortal beings from the past have returned to rule mankind. It was only a matter of time until "The Ancient Ones" were unearthed. Now these makers of chaos are loose from the pits of hell—and the whole world will pay.
Lunatics Playground 3D – You Won't Stand A Chance brings back the character of Chance, the partner-in-crime of Halloween Horror Nights mascot Jack the clown, and builds an entire maze around her:
While Jack's away, Chance has unleashed the horrors of her imagination. Her twisted delusions and reality are continuously blurred in a 3D playground of carnage. When the music box plays, the world shifts to her sinister theatre of the mind. But when the alarm starts ringing, Chance is thrown back into the brutal reality of her incarceration.
A series of five new "Scare Zones," open spaces where visitors are menaced by wandering monsters and killers and so on, were also unveiled:
• Survive or Die – A global catastrophe has ruined Earth's atmosphere. One group of survivors secured a machine that provides clean air. The two other surviving groups are on the hunt to gain control of the machine and are recruiting new members to help them. You can either join them or feed their staving ranks. Which will you choose?
• Banshee's Lair – Travel deep into the forest where evil spirits and horrific creatures of the ancient world roam free. Mother Nature's magical barrier of vines has been torn away and the modern world has found the entrance to this corrupted grave.
• Dead Man's Wharf – When a fishing vessel named Annabel Lee never returned to the harbor and was lost forever, the wharf was left uninhabited as a memorial to her. Now, a strange fog has rolled into the village. And the long-lost fishermen's spirits seek to punish the town that left them.
• Vamp 1955 – Welcome to Hollywood High School's 1955 Homecoming Parade. Everything is in place, until the greasers roll into town with fangs instead of switchblades. It's a procession of chaos with vampires ready to take a bite out of anyone in sight.
• A Chance In Hell – Get ready for the audition of a lifetime. Chance may be locked away, but that hasn't stopped her. As the alarms ring and the bloody remains of those who tried to stop her lie around, she's busy recruiting cellmates to join her biggest act yet. (I hope I get chosen!)
For more information on every maze and Scare Zone, follow the link above.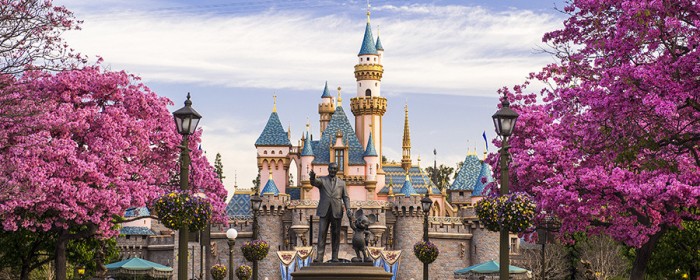 With all of the new construction occurring in and around the Disneyland resort, the OC Disney Twitter feed has done everyone a service by sharing the map below, which shows off the new walking route countless visitors will be taking to enter the park. For more information about the myriad of ways to enter Disneyland, the official parks blog has written a post about the "Eastern Gateway" that will open in 2018.
Big Thunder Mountain Railroad at Walt Disney World has shut down for the next 90 days or for refurbishing, with "routine maintenance" being cited as the main reason for the closure. The popular roller coaster is expected to reopen on November 18, 2016, but that can always change. It's not clear if Disney will take this opportunity to add the extra bells and whistles that were recently incorporated into the ride's Disneyland counterpart (including the impressive new finale seen in the video embed below) and fans probably shouldn't raise their hopes too high.
Still, past refurbishments have seen new details nd features added to the ride and its queue, so there's always a chance that the "wildest ride in the wilderness" will reopen with something new to see.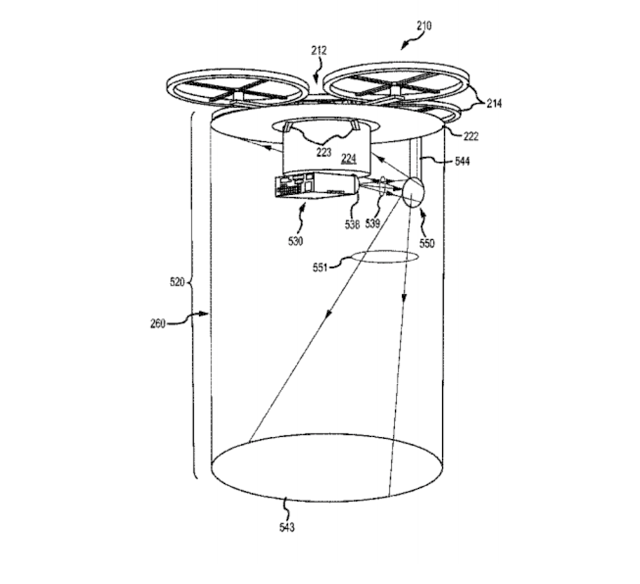 The thing about Disney is that they are always patenting insane new technology on the chance that they will, someday, get around to utilizing it in their theme parks. Today's new concept sounds like the kind of crazy that could actually come to fruition sooner rather than later. Disney has been granted a patent for a "projector drone" that can fly over crowds and project images onto an attached screen. Here's how Digital Trends describes it:
According to diagrams, the drone's screen would be held parallel to the ground, with the projector beaming an image onto its rear surface via a reflector. The screen would have enough translucency to allow park visitors to see the projection, which could consist of both still and moving images.
To prevent unexpected wind gusts playing havoc with the screen and compromising the drone's flying ability, the patent suggests the lightweight surface could be made from "a mesh sheet with a porosity allowing air to flow through."
It's easy to see how this tech could be incorporated into the park's nighttime shows, which have already grown beyond impressive fireworks displays and have started utilizing projection mapping technology to create impossible images and illusions. Adding an aerial element feels like the next logical step.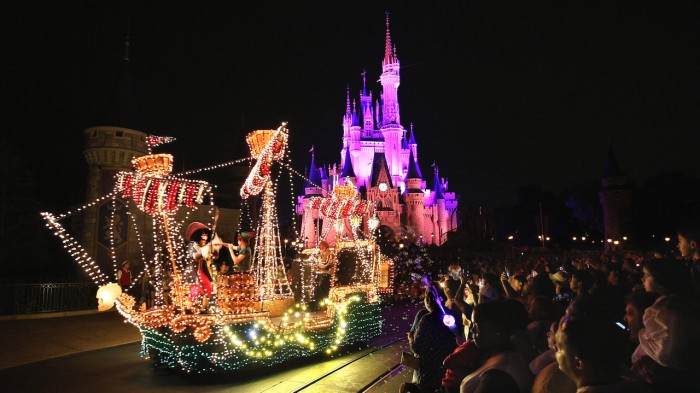 In other nighttime show-related news, the Main Street Electrical Parade will officially end its lengthy run at Walt Disney World's Magic Kingdom Park on October 9, 2016. It will then head across the country for a limited run at Disneyland. If this show means something significant to you, act accordingly.