Brad Pitt Wants David Fincher For The 'World War Z' Sequel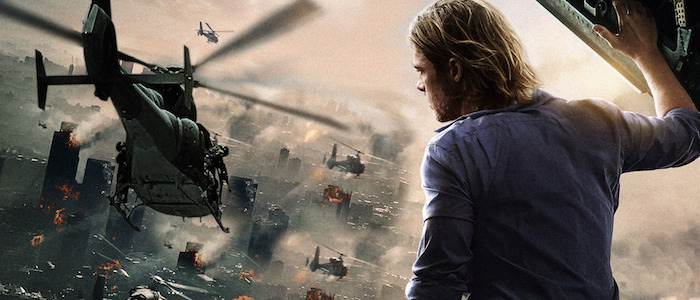 I'll file this one under "I'll believe it when I see it," but here goes nothing: it seems that Brad Pitt and Paramount are currently courting David Fincher to direct the sequel to 2013's World War Z. Nothing has been confirmed and no dotted lines have been John Hancocked, but the Gone Girl director seems to be current choice to take over the project. There's a lot of baggage to sort through here and a dozen different reasons while he would say no to this job, but let's take a moment to imagine a zombie apocalypse film directed by a filmmaker as meticulous and remorseless as Fincher. That would be the exact kick in the rear this burgeoning franchise needs.
The new comes our way via Variety, who report that Fincher initially wasn't keen on taking the helm of this one, but "negotiations are much further down the road" and the studio and Pitt (who is a producer on the film) aren't making offers to anyone else. It's easy to see why Pitt would pursue Fincher for this film, as their previous collaborations (Se7en, Fight Club, and The Curious Case of Benjamin Button) have proven fruitful.
And it would make sense that Pitt would want to work with a filmmaker that he trusts implicitly. Although the original World War Z received mixed-to-positive reviews and was a big hit at the international box office, the actual production of the film was calamitous and the entire final third of the film had to be reshot. It is commonly accepted that these expensive reshoots completely salvaged the movie, which is actually at its best and most intense during its final thirty minutes. Hell, it feels like a completely different movie, which makes you wonder just who was calling the shots on the new scenes. It certainly doesn't feel like original director Marc Forster.
However, Fincher isn't the kind of guy who jumps at the opportunity to make franchise movies and you can't really blame him. He made his directorial debut with 1992's Alien 3, a film that was beset on all sides with studio interference. Fincher has essentially disowned the film and each of his movies since then has been a standalone project without a number in the title or a connection to a larger series. He dipped his toe in blockbuster waters again when he was briefly attached to make an addition of 20,000 Leagues Under the Sea at Disney (with Pitt set to star), but he ultimately bowed out. In other words, it's going to take a lot to convince Fincher that a World War Z sequel is worth a few years of his life.
But Paramount is scrambling to get this thing made, especially since they lost original director J.A. Bayona to Jurassic World 2. The ending of World War Z is open-ended enough, and Max Brooks' fantastic source novel so full of untapped potential, that it's easy to imagine Fincher walking in and doing whatever the hell he wants with this world, recreating it in his own image. I can't see it happening, but who knows? Crazy things happen every day.
World War Z 2 is currently set for a June 19, 2017 release date. That's not going to happen.