A 'Game Of Thrones' Concert Tour Is Marching Across North America In 2017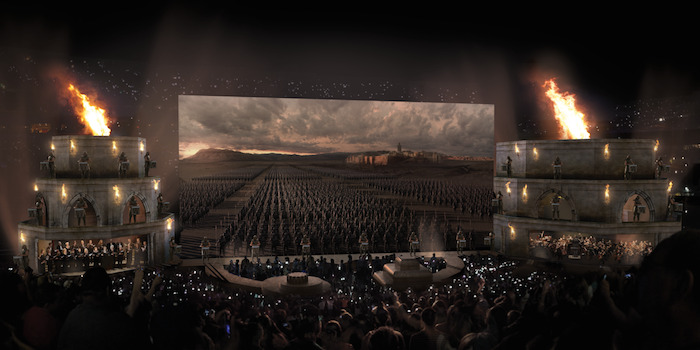 If you're like me and are always on a selfish quest to prove to your fellow human beings that you belong in the upper percentile of Game of Thrones fans, know this: a live concert tour that will see composer Ramin Djawadi's score performed live in 28 cities throughout North America has been announced and tickets go on sale in just a few days.
The Game of Thrones Live Concert Experience is the work of Live Nation, who describe the event as a"music and visual experience that will bring the Seven Kingdoms to life on a scale never seen before." The series was announced at the Hollywood Palladium in Los Angeles, where series actor Isaac Hempstead Wright (better known as Bran Stark) and Djawadi were on hand to provide details.
Djawadi (via Variety) explained the concert series originated with show creators David Benioff and Dan Weiss:
We were in the studio together reviewing some music and one of them said, 'I would love to see this live. I want to full orchestra. I want to see a choir.' So we went from there.
As you can see in the concept art above, the concert will feature a massive LED screen and a special stage, with the orchestra and the choir housed in giant stone towers covered with flaming torches. Djawadi promises that there "won't be a bad seat in the house" and that the stage will function from 360 degrees. After all, it wouldn't be Game of Thrones without some level of bombast.
In an era where too many musical scores go in one ear and out the other, the music from Game of Thrones has stood out. It's bold when it needs to be, but perfectly capable of reworking recurring melodies to be sweet or sinister or melancholic. I have met more than one person who regularly "sings" along with the opening theme and many of them have devised their own lyrics. And yes, I am one of them.
And while we can expect plenty of other noteworthy tracks to be part of the show, I'm most interested to hear that chilling and intense piece from the season six finale. What begins as a gentle piano piece eventually transforms into the soundtrack of a mass murder.
Tickets for the Game of Thrones Live Concert Experience will go on sale on August 13, 2016, so make sure you set a reminder. You can peruse the official page for the series on Live Nation's site to see if you live in or near one of the 28 cities that will host the series next year. The series is set to begin in February of next year and run through April. Consider this a way to tide yourself over while waiting for season seven to finally arrive.