Cool Stuff: Florey's 'Guardians Of The Galaxy' Print Features Star-Lord The Flying Imbecile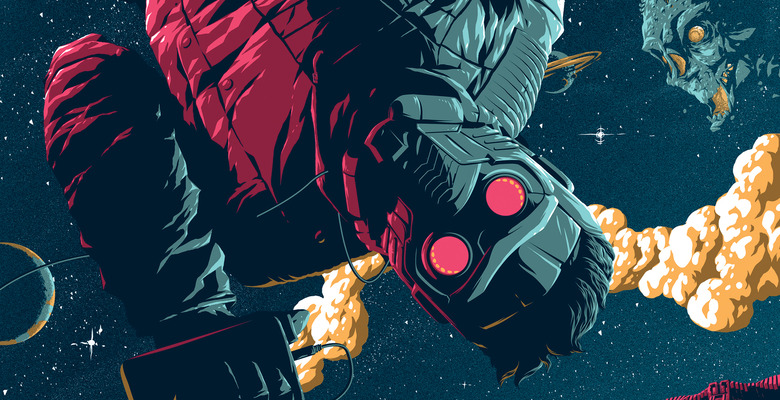 Undoubtedly the most important thing to Peter Jason Quill is the recorded tape called Awesome Mix Vol. 1, a mixtape of music given to him by his mother on her deathbed. The tape is so important to him that he takes on a prison guard in The Kyln because he won't just put it away with the rest of his personal effects. Then when he and the rest of the Guardians of the Galaxy escape from the prison, he hangs back to make sure he can get it back.
Now this moment is immortalized (albeit with some modifications) in a new Guardians of the Galaxy print by the artist Florey. The outstanding piece of work features Star-Lord blasting through space with his walkman in one hand and the orb that contains an Infinity Stone in the other. But it also features some elements you won't find in that scene in question. check it out below.
Here's the Guardians of the Galaxy print (and variant) by Florey from Grey Matter Art:
This print actually combines several elements from two different scenes in Guardians of the Galaxy. There appear to be more elements from the scene in which Star-Lord saves Gamora in the middle of space outside Knowhere after a big chase between them, Nebula, some of Ronan the Accuser's thugs, and Rocket Raccoon. However, that scene didn't feature Star-Lord holding the orb and his walkman, and there weren't any of Nova's ships to be seen either. So Florey has taken some artistic freedoms here.
The regular version (left) has an edition of 225 and will cost $45 while the variant has an edition of 150 and will cost $55. Both measure 24x36 and will be on sale at 1pm Eastern time at the official Grey Matter Art website on Thursday, August 11th.