'Resident Evil: The Final Chapter' Trailer: Milla Jovovich Is Still In The Zombie Genocide Game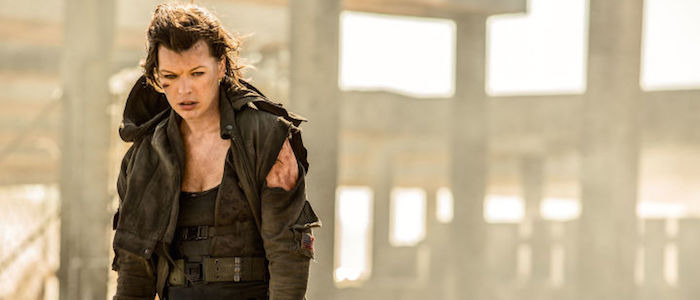 I didn't always have a soft spot for the Resident Evil movies, but I developed one over time, especially as it became clear that this trashy, silly, and hilariously convoluted series was just going to keep going and going and going. Even when they're at their least comprehensible, these films have been a strong showcase for Milla Jovovich as an action hero and watching her find new and bloody ways to combat armies of monsters, mutants, and zombies has, more often than not, been worth the price of admission.
Now, the series looks to be coming to an end with Resident Evil: The Final Chapter and the first trailer has arrived. And yet, let's not take that subtitle too literally yet – you'd need a few hands to count the number of franchises that continued beyond the entry that contained "final" in the title.
The trailer is light on plot and character but heavy on action, mayhem, motorcycles, ruined cities, zombie hordes, and icky beasts, which means it's a fairly accurate summation of what these movies are actually like. The most pleasant surprise is the return of Game of Thrones star Iain Glen as Dr. Alexander Isaacs, the evil scientist who played a role in Resident Evil: Apocalypse and Resident Evil: Afterlife before sitting out the next two movies. This being the final chapter and all, it makes sense that writer/director Paul W.S. Anderson (who also directed the first film back in 2002 and as well parts four and five) would bring back one the few Big Bads who have managed to survive Alice's wrath.
This is the international trailer, but we will update this post when other versions arrive.
2012's Resident Evil: Retribution was, inexplicably, the best film in the series so far, fully embracing the lunacy of this world and delivering one bizarre action set piece after another. It then had the nerve to end with a cliffhanger so preposterous that it made me lightheaded. The best we can hope for is that Resident Evil: The Final Chapter captures that same sugar rush energy, delivering the cinematic equivalent of cotton candy – there is nothing nourishing here and it'll only do damage to your mind and body, but there's no denying that it goes down easy.
Here's the official synopsis for the film, which seems to suggest that the big cliffhanger from the previous film will be dealt with very quickly:
Picking up immediately after the events in Resident Evil: Retribution, humanity is on its last legs in Washington D.C. As the only survivor of what was meant to be humanity's final stand against the undead hordes, Alice must return to where the nightmare began – Raccoon City, where the Umbrella Corporation is gathering its forces for a final strike against the only remaining survivors of the apocalypse. In a race against time Alice will join forces with old friends, and an unlikely ally, in an action packed battle with undead hordes and new mutant monsters. Between regaining her superhuman abilities at Wesker's hand and Umbrella's impending attack, this will be Alice's most difficult adventure as she fights to save humanity, which is on the brink of oblivion.
Resident Evil: The Final Chapter is set to arrive on January 27, 2017.