Watch 'The Muppets' Band Dr. Teeth And The Electric Mayhem Perform Live In San Francisco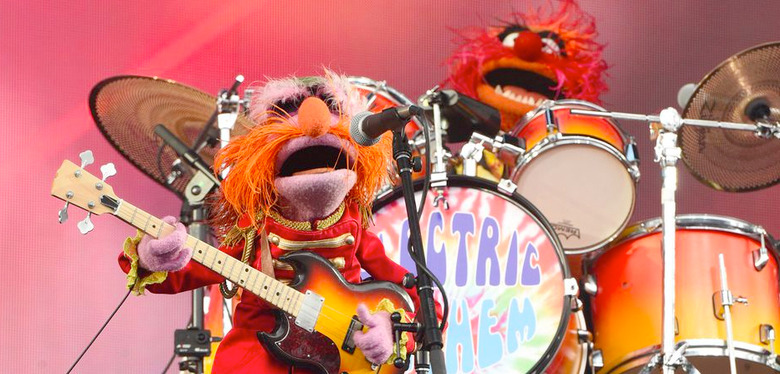 The Muppets have been a staple of childhoods that span generations. However, much like cartoons, for adults and children alike, they only exist in the world of TV and movies. But every now and then, The Muppets appear in the open for the public to see outside of a screen, and it feels truly magical. That's exactly what happened at a music and arts festival in San Francisco.
Fans of The Muppets know that there's no band better than Dr. Teeth and the Electric Mayhem. That's the band which features Animal as the drummer along with frontman Dr. Teeth, Floyd Pepper, Janice, and Zoot. And as if they were any other chart-topping band in the world, Dr. Teeth and the Electric Mayhem performed a live 25-minute set at San Francisco's Outside Lands Music and Arts festival this past weekend, and you can watch the whole thing after the jump.
Here's the Dr Teeth and the Electric Mayhem live performance from the FEST 2016 YouTube channel:
Songs on the band's set list included Mowgli's San Francisco, a perfect way to play to the crowd in the California city, as well as "Ophelia" by The Band and also "Home" by Edward Sharpe & The Magnetic Zeros. If you're not familiar with those groups, they also played some stuff that's a little more mainstream like a rendition of "With a Little Help from My Friends" by The Beatles, complete with help by the Oakland Interfaith Gospel Choir.
I wish I could have been their in person to witness this set. As someone who grew up loving The Muppets, watching their movies non-stop on recorded VHS tapes, this would have been like seeing The Rolling Stones. Plus, their appearance is made all the better by the fact that they even joked around between songs. Seriously, this is magical stuff.