Watch A Preview Of The New 'Star Wars: Rogue One' Olympics Trailer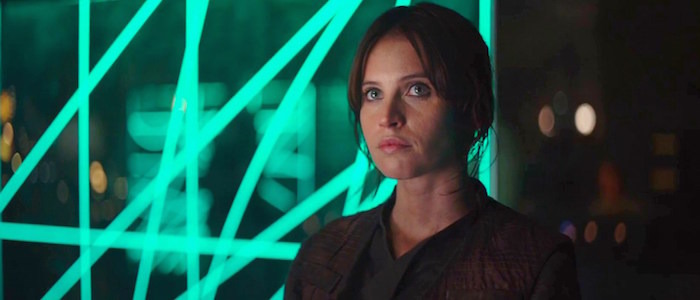 Many fans were disappointed when a new trailer for Rogue One: A Star Wars Story didn't end up debuting on ABC the same weekend of Star Wars Celebration. An early description of an ABC special indicated a new trailer for the spin-off would debut on TV at that time, but it ended up just being a re-airing of the sizzle reel that debuted at the fan convention in London. However, it appears we'll be getting a new trailer soon after all.
A TV spot aired today revealing that a new Rogue One trailer would be coming later this week. Find out when you can catch this new Rogue One Olympics trailer after the jump.
Update from Editor Peter Sciretta: The promo is now officially online:
The TV spot has footage that comes from the first trailer, but there is one new shot featuring Jyn Erso (Felicity Jones), who appears to be looking at Chirut Imwe (Donnie Yen), saying, "Are you with me?" The spot also informs us that the trailer will debut on Thursday, August 11th. As of now we don't know how long the trailer will be or exactly when it will air, but if we hear any extra information we'll be sure to let you know.
Otherwise, we'll have the new Rogue One trailer posted online as soon as it's available, and we'll likely have a breakdown if there's enough new footage for us to analyze frame-by-frame. All eyes are on this first Star Wars spin-off to give us an idea of what we can expect from future standalone adventures, so hopefully it delivers on December 16.