'24: Legacy': Kiefer Sutherland Crushes The Dreams Of A Jack Bauer Cameo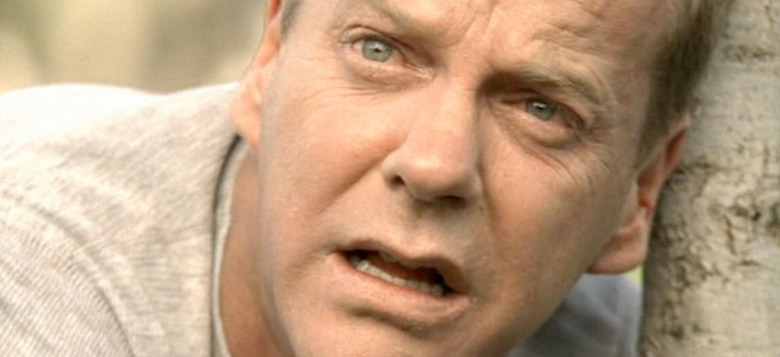 Not too long ago, 24 producer Howard Gordon floated the possibility of Kiefer Sutherland reprising his role as Jack Bauer on the forthcoming Fox sequel series 24: Legacy. The series follows Straight Outta Compton star Corey Hawkins as Eric Carter, a former Army Ranger who finds himself pulled back into action as his past comes looking for him. But the series takes place in a world where Jack Bauer exists and is still alive. However, Kiefer Sutherland himself has just cast some serious doubt on Jack Bauer ever coming back.
Here's how Kiefer Sutherland crushed our Jack Bauer 24 Legacy cameo dreams:
There are absolutely no plans for that.
That definitive answer to the question of a possible cameo came during ABC's TCA panel for the new series Designated Survivor (watch the trailer here), and Sutherland didn't elaborate after that. However, Howard Gordon ended up clarifying his earlier statements from the ATX TV Festival to Deadline:
There's no plans at the moment; I think it's just sort of a possibility downstream reflecting just my own personal fantasy. We haven't said you're definitely coming back; it's just something that I was just musing about and that I think isn't impossible but there are no plans about it.
So Howard Gordon has basically made the assumption that any fan could make at home. Jack Bauer is still alive. Kiefer Sutherland is still alive and likes to get paychecks. Maybe this could happen at some point. But as both Gordon and Sutherland have said, there are no plans for that to happen anytime soon.
Honestly, I'm not sure Sutherland would ever be ready to return to Jack Bauer. This is a series that took up nearly 10 years of his life, and that's a long time to spend doing any kind of job. Plus, Sutherland even tried to have Jack Bauer killed when 24 was coming to an end, though the network and his agent apparently wouldn't let it happen, likely so the possibility of a return like this was never out of the cards.
But for now, it sounds like Sutherland is firm on staying away from Jack Bauer. We'll leave you with the last time Sutherland denied the possibility of coming back as Jack Bauer from last fall:
24 is definitely over now for me. It's one of the greatest gifts I've ever been given as an actor, but it's moving on without me. I want to do other things.
As for 24: Legacy, it premieres on Fox after Super Bowl LI on February 5, 2017.