Color Some Wieners In A 'Sausage Party' Coloring Book For Adults From Alamo Drafthouse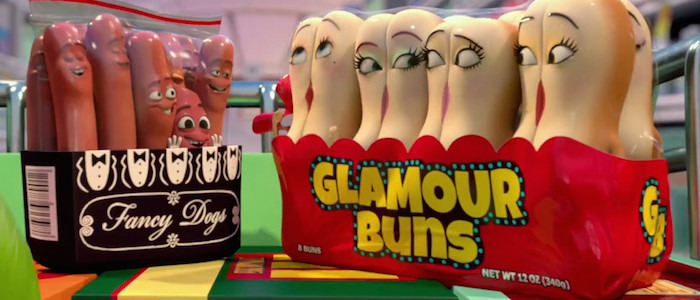 We're just a week away from one of the most outrageously raunchy movies arriving in theaters in the form of Sausage Party. It's seriously a miracle that the animated comedy from Seth Rogen & Evan Goldberg was even made. And now you can celebrate that little miracle by coloring all the wieners and buns you can dream of in a Sausage Party coloring book that's meant just for adults.
Alamo Drafthouse has created a cool little collectible for all you foodies out there, and you can either get it with a ticket to see Sausage Party, or you can just buy it online right now. Get all the details after the jump.
Here's a sneak peek at what you'll get with the Sausage Party coloring book:
Put the jokes in your hands with this exclusive, limited edition *adults-only* SAUSAGE PARTY coloring and activity book.
Enjoy wholesome, fun activities just like in kids' coloring books... only made completely unwholesome. Like, totally NOT safe for work/school/children. Color in dirty scenes from the movie! Enjoy a word find packed with F-bombs! Help Frank find his way through the "Glory Maze" and more — PLUS, an introduction from writer and star SETH ROGEN himself!
Seriously though, this book is filthy. Don't even think about purchasing if you're under 18, or slipping it to your kid brother to be funny.
As you can see, this explicitly says that this is not a coloring book for kids, so I better not see any stories about parents complaining about their kids being traumatized by a coloring book featuring a bunch of sexual food puns. Here's a link to buy the coloring book right now at Mondo, or you can just get one when you buy a ticket to Sausage Party at an Alamo Drafthouse location.
In addition, if you happen to be heading to an Alamo Drafthouse to see Sausage Party, they'll have some special menu items for you to order while you're watching talking food get murdered in front of your eyes. Here's the specials they'll have, made to look like a Shopwell's grocery advertisement: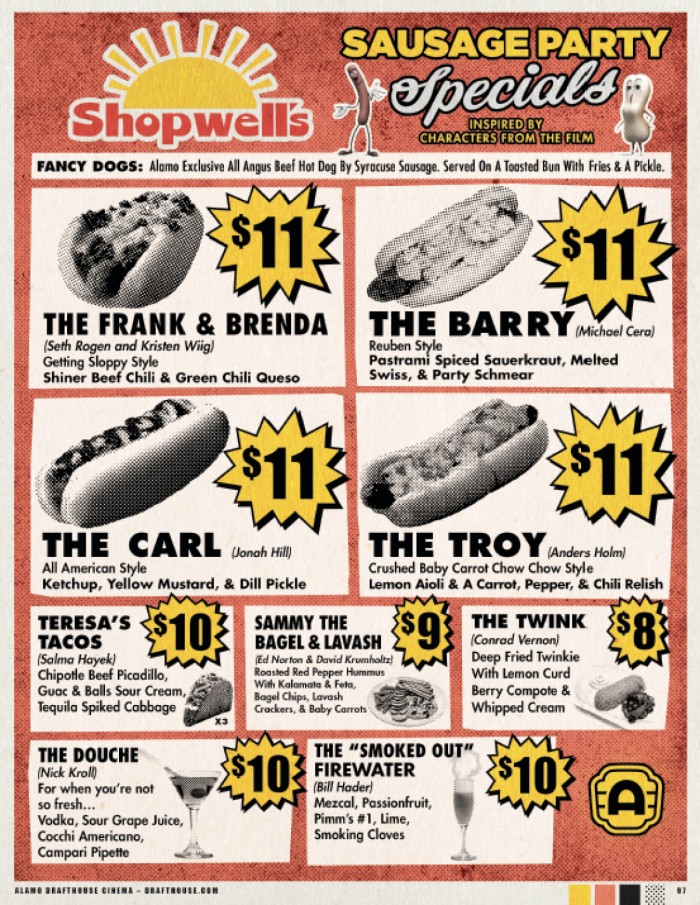 Sausage Party opens on August 12 next week. Read our full review of the movie right here.