'Dunkirk' Teaser: Christopher Nolan Returns With A World War II Epic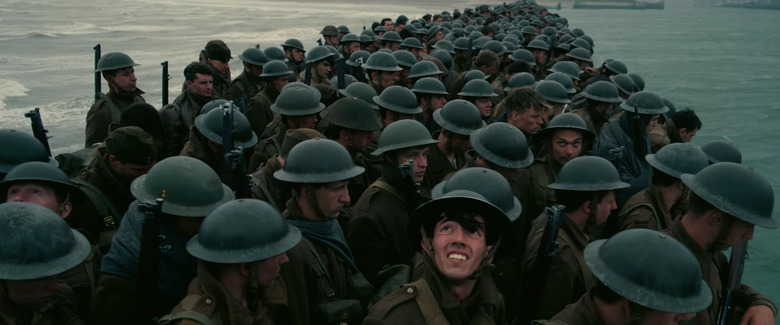 Stand up and cheer, Christopher Nolan is back. While the director's last few films have seen him grappling with space travel, dream manipulation, and high-tech superheroes, his new film Dunkirk is grounded in gritty history. The title refers to the French seaport of Dunkirk, where 330,000 Allied troops were evacuated in 1940 during World War II.
Today Warner Bros. released the first teaser for the new movie from Nolan — or as One Direction fans might now it, the film that forced Harry Styles to cut his hair. Watch it below.
It's just 60 seconds of footage, but Dunkirk already looks like powerful, epic stuff. That last shot of the soldiers on the boat, ducking in panic as something approaches from the sky, is downright chilling. The sheer terror in their faces sells the horror of war as well as any gory or graphic violence could — though I'm sure Dunkirk will have plenty of that to go around as well.
Nolan's gone with a mix of familiar and unfamiliar faces for Dunkirk. In addition to Styles (who is very famous but has no prior acting experience), the film also stars up-and-comers Fionn Whitehead, Jack Lowden, and Aneurin Barnard as well as screen veterans Mark Rylance and Kenneth Branagh and Nolan regulars Tom Hardy and Cillian Murphy. Michael Caine's name somehow hasn't come up, but I refuse to believe Nolan couldn't find room to squeeze in his good luck charm somewhere in the film.
Dunkirk arrives July 21, 2017. Hoyte van Hoytema (Interstellar) serves as cinematographer and Hans Zimmer (he of the Inception "BRAAAHMS") will score the film. Here's a logline, although if you really want to know what happens in the movie you can just a crack open a history book.
"Dunkirk" opens as hundreds of thousands of British and Allied troops are surrounded by enemy forces. Trapped on the beach with their backs to the sea they face an impossible situation as the enemy closes in.