Edgar Wright Also Wants Anna Kendrick To Play Squirrel Girl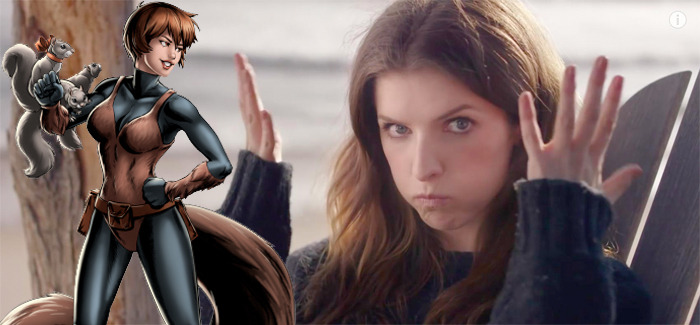 A little over a month ago, Pitch Perfect star Anna Kendrick expressed interest in playing the Marvel Comics superhero Squirrel Girl. Advised by her brother that the character perfectly fits her, Kendrick said she would probably be down to be half-squirrel if the opportunity arose. Fans of the comic didn't think it was a bad idea at all, and now she has the support of one of her former directors in the form of Scott Pilgrim vs the World helmer Edgar Wright.
Find out what Edgar Wright had to say about Anna Kendrick as Squirrel Girl after the jump.
The filmmaker posted this call to action on Twitter:
If it's been awhile since you've seen Scott Pilgrim vs the World, then you might have forgotten that there are so many superhero actors in that movie. Some of them were already comic book characters before taking a role in Scott Pilgrim, but others wouldn't book those roles until afterwards. As Wright points out, there's Superman (Brandon Routh), Captain America (Chris Evans), Human Torch (Chris Evans again), The Punisher (Thomas Jane), Captain Marvel (the recently cast Brie Larson) LEGO Robin (Michael Cera) and The Atom (Brandon Routh again).
Anna Kendrick is one of the few primary players who hasn't been in a superhero movie yet, and Squirrel Girl would undoubtedly be a good fit for her. In fact, it would be awesome if Marvel Studios could get Edgar Wright back in their offices to direct a Squirrel Girl movie. But after directing Ant-Man didn't work out for Wright, despite working on the project for years, that collaboration may not be in the cards. Plus, Edgar Wright already has an impossible demand for the project:
In this movie you have to fight all those other characters. Deal?

— edgarwright (@edgarwright) August 4, 2016
Anna Kendrick is certainly the biggest name that has been tossed around to star in a Squirrel Girl movie, even though there isn't one in active development as far as we know. But with all this buzz around a hypothetical movie, maybe Marvel Studios will get one in the works. After all, it couldn't hurt to bring another female superhero into the Marvel cinematic universe.
However, Stranger Things star Sharon Purser (she plays the bespectacled, freckled redhead Barb) has also thrown her hat in the ring for Squirrel Girl, and that casting sounds even better than Anna Kendrick:
Marvel filed a trademark for the character back in 2014, but the comic book has been rebooted since then, so it doesn't appear to have been for a movie. If Marvel doesn't think Squirrel Girl fits on the big screen, maybe a Netflix series would work out better for the woodland hero.
Now if we could also get Scott Pilgrim vs the World co-star Kieran Culkin into the Marvel cinematic universe somehow, that would be pretty cool too.