Oliver Stone's 'Snowden' PSA: Turn Off Your Phone In Movie Theaters And Maybe Never Use It Again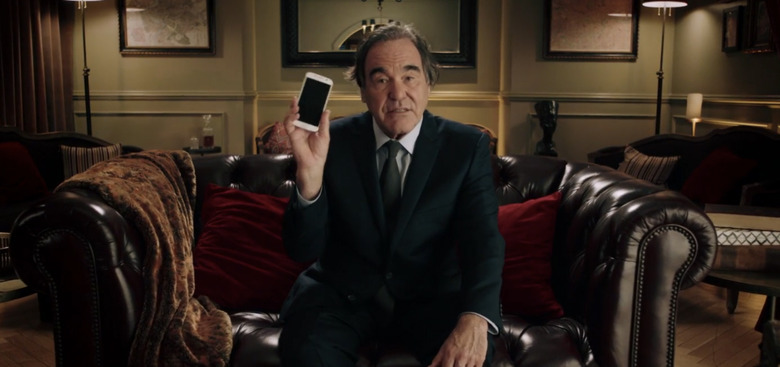 It's a bit baffling that we still have to ask people to have the common courtesy to turn off their cell phones and keep them put away in a movie theater. It's extremely frustrating to hear a ringtone go off during a movie or see a bright screen pop up in the darkness. There are even people who think it's appropriate to take a selfie with the flash on during a movie (something I've personally experienced). It's just sad.
Thankfully, the discourteous behavior of rude people has resulted in at least some form of amusement when we get a PSA (usually from the Alamo Drafthouse) about keeping your cell phone off during a movie. But today, we get an Oliver Stone PSA from Open Road Films inspired by the forthcoming film Snowden where he not only asks you to turn your cell phone off, but also warns us that this little device will be the downfall of humanity. It's exactly what you'd expect from Oliver Stone.
Even though this is chock full of Oliver Stone's signature paranoia, there's also a great moment where he takes the time to acknowledge some adorable cats. Thankfully, he doesn't turn this praise into some kind of theory about how cats are always listening to our phone calls or tracking our location. However, he did have some cautionary things to say about people playing PokemonGo when he appeared at Comic-Con last month (read our panel recap here) to promote Snowden, calling the game "surveillance capitalism."
As for Snowden, there was a screening of the film at Comic-Con, but any reviews are being held back until the September 16 release date gets closer. Our own Jack Giroux was at the screening in San Diego, and we'll have a review from him as soon as we're allowed to share it.
The subject matter of Snowden is perfect for a director like Oliver Stone who has always been leery about the government. The film will likely end up as much of a true story drama as a cautionary tale about privacy, data mining and more. But then again, Oliver Stone's presidential biopic W. wasn't anywhere near as critical of the president as some expected, at least not in the way many anticipated. So maybe the filmmaker will do something a little different than we expect.
If you haven't seen the most recent trailer for Snowden, watch it right here, and stay tuned for our full review.