Star Wars Bits: 'Episode 8' Character Details, New Thrawn Trilogy Cover Art, And Australia's Jedi Problem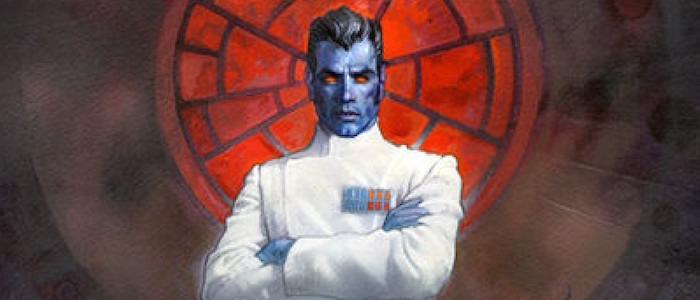 In this edition of Star Wars Bits:
A new rumor about Kelly Marie Tran's character in Star Wars: Episode 8.
New editions of Timothy Zahn's Thrawn Trilogy will feature new cover art.
A new Blu-ray set featuring the prequel trilogy in 3D may be on the way.
Australia's Jedi population is messing up the national census.
Han Solo comic book artist Mark Brooks was just paid the ultimate compliment.
Writer Jennifer Muro is working on a top-secret new Lucasfilm project.
We know precious little about Star Wars: Episode 8, which is something of a surprise following the fairly leaky ship that was Star Wars: The Force Awakens. So when a report arrives claiming to have information about one of the film's new characters and a key scene, it is perfectly natural for your ears to perk up. But first, grab the salt, because this could very easily turn out to be nonsense. And, of course, skim down to the next section if you don't want any potential spoilers.
Okay, so I Was Raised to Do One Thing (via International Business Times) is reporting that Kelly Marie Tran is playing a character named Aya in the film and that she is an information broker, selling intelligence to both the First Order and the Resistance. Much like how Rey and other new characters were given codenames on the set of The Force Awakens, it is entirely possible that Aya is a fake name. Anyway, it seems that Finn meets with Aya in a "fancier" bar (i.e., not a grungy cantina), only for Stormtroopers to crash the meeting. Aya then helps Finn escape.
John Boyega has previously said that Tran is playing a new major character in Episode 8 and if that's the case, it sounds like Aya may be sticking around Finn for a little while longer. And as a free agent who has worked for both sides of the conflict, Tran certainly sounds like she could be the Lando Calrissian of the new trilogy.
If this is true, of course. We're just having fun right now.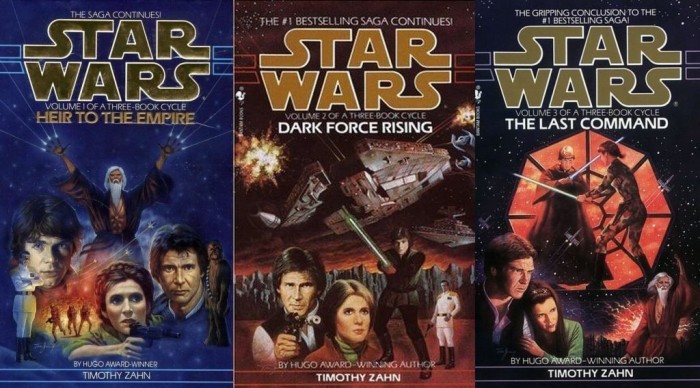 Arguably, the biggest news to come out of this year's Star Wars Celebration was the return of Grand Admiral Thrawn, the blue-skinned Imperial villain created by author Timothy Zahn for the novel Heir to the the Empire and its two sequels. Although the "Thrawn Trilogy" has been sent to live under the "Legends" banner along with the rest of the original expanded universe, these books remain popular and beloved and will continue to be published...and with new cover art, apparently (via Jedi Bibliothek). Heir to the Empire, Dark Force Rising, and The Last Command have all had the same covers since their initial publication in the '90s, but the new versions arriving on September 27, 2016 will be different. And that's all we know for now. While it will disappoint some fans to see the original artwork retired, it really is time for a refresh. While certainly iconic, those original covers, with their space wizards and slightly awkward staging, are looking a little long in the tooth.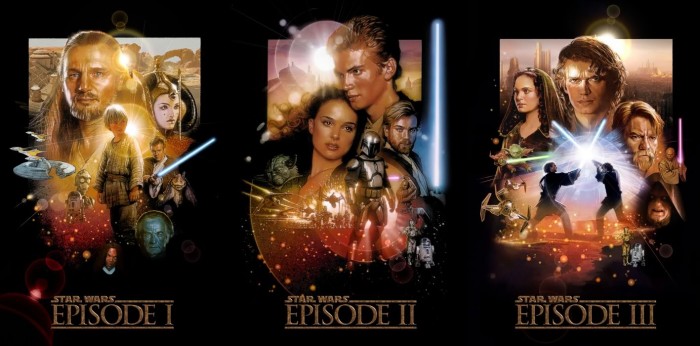 Take this with a grain of salt, but The Digital Bits is reporting that a new Star Wars 3D Blu-ray box set collecting the original prequel trilogy and Star Wars: The Force Awakens is on the way. Here's the scuttlebutt:
The latest from our retail and industry sources is that Disney and Lucasfilm are considering a 5-disc Blu-ray 3D box set, which would include The Phantom Menace, Attack of the Clones, Revenge of the Sith, and The Force Awakens – all in Blu-ray 3D format – along with a fifth disc of exclusive bonus content. The release date would presumably be in time for the holidays this year, and likely timed to promote the theatrical release of Rogue One: A Star Wars Story on 12/16. As soon as we catch any official word on this we'll let you know.
Let's run through a few stray observations about this rumor. First, no matter your opinion on the prequel trilogy, it's cool that these films may be available in the 3D format for those who want to experience them that way. Second, the lack of the original trilogy is disappointing but not surprising and it makes me wonder if we're due for a bigger box set when Disney officially sorts out all of the rights issues that make releasing the original, non-special edition trilogy such a pain in the butt. Third, the news of a bonus disc is all well and good, but I have a hard time imagining it topping the features on the original saga box set, which made the whole set worth the price of admission. But we shall see!
After misguidedly listing Jedi as my religion for most of my adult life... pic.twitter.com/awq4wvwUR2

— Adam Valentine (@Adam86Valentine) July 27, 2016
Here's a weird one: it seems that so many Australians are listing their religion as "Jedi" that the Atheist Foundation of Australia has taken action. 64,390 citizens declared themselves to be members of this fictional sect in the 2011 census and while this is clearly a joke and an amusing way to express their fandom, it ultimately caused Jedi to rank just below Sikhs and above Seventh Day Adventists. Since census information helps decide where government funding is allocated, the AFA has started kindly asking that Star Wars fans who aren't religious start marking "no religion" on their forms, just to provide more accurate information and to ensure that money goes to the right services and institutions.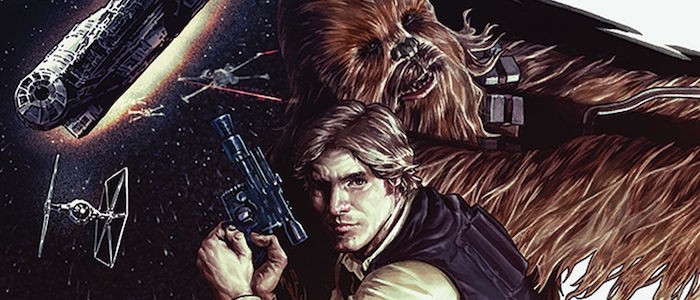 In case you were wondering what the "ultimate compliment" looked like, comic book artist Mark Brooks took to Facebook to reveal that George Lucas himself wants to buy the original art from the new Han Solo miniseries he is illustrating for Marvel:
Got an e-mail last night from Lucasfilm saying that George Lucas would like to purchase every original page from Han Solo #1 and #2. Surreal is an understatement.
When asked why Lucasfilm, a company he is no longer involved in, would be contacting him on his behalf, Brooks explained that "George gets first right of refusal on all Star Wars artwork." In other words, Lucas gets to decide whether or not he wants to buy any official Star Wars art before it hits the market, which means he probably sees a ton of stuff...and decided that Brooks' work was worth adding to his library. And if you've seen Brooks' art before, you probably understand why someone with no financial ceiling would happily scoop it up.
Lothcat's out of the bag. Bottom line: it's a new thing & I've taken my first step into a larger world. #Lucasfilm pic.twitter.com/tet6ZkHb4o

— Jennifer Muro (@jennifermuro) August 3, 2016
Television writer Jennifer Muro (whose credits include the upcoming Justice League Action series) revealed on her Twitter page that she is working on something for Lucasfilm. The exact details of that something remain closely guarded, but she did offer this much in a follow-up tweet:
So Muro is working on a project as a writer and it is not something currently on the air. Her choice of words there indicate that it is another Star Wars show and her background in animation suggests that this new project is another animated series. Since Lucasfilm's TV offerings run the gamut from all-ages storytelling (Star Wars Rebels) to entertainment for younger audiences (LEGO Star Wars: The Freemaker Adventures), your guess is as good as mine when it comes to what Muro could be hatching. In any case, this certainly feels like another baby step toward Lucasfilm president Kathleen Kennedy's promise to have more women working on the creative end of Star Wars.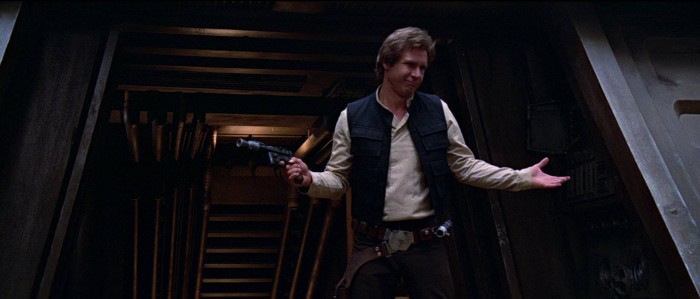 Every Star Wars movie operates under a fake title, with Disney and Lucasfilm creating a new subsidiary to mask the identity of the actual production (although that hasn't been especially successful). Star Wars: The Force Awakens operated under Foodles Productions Ltd., Rogue One: A Star Wars Story under Lunak Heavy Industries, and Star Wars: Episode 8 under Space Bear Industries. Now, Jedi News has uncovered two more: Carbonado Industries Ltd. and PLT Productions Ltd. The first is, obviously, the codename for the Chris Miller and Phil Lord's Han Solo spin-off movie. The latter could be Star Wars: Episode 9, but it could just as easily be another spin-off or another Lucasfilm project that has nothing to do with Star Wars.