'Spider-Man: Homecoming' Gains A UFC Champion, Plus Another Avenger May Be Stopping By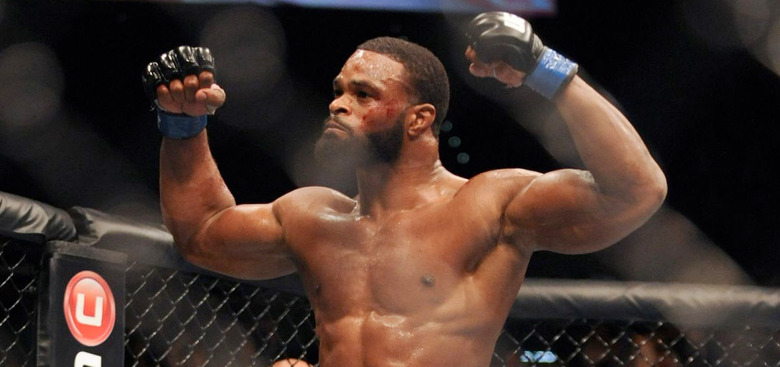 The cast of Spider-Man: Homecoming is already pretty crowded. Tom Holland has the role of the new Spidey, Michael Keaton has been presumed to take the role of the villain Vulture, Robert Downey Jr. will be appearing as Tony Stark, Marisa Tomei is back as Aunt May and some of Peter's classmates will be played by Zendaya, Tony Revolori, Jacob Batalon and Laura Harrier (find out who they're playing right here).
Now one more name has been added to the cast, and he's a recent UFC champion. Plus, there's a rumor circulating from the set of Spider-Man: Homecoming down in Atlanta that another Avenger may be making an appearance. Find out more about each of the additions to the Spider-Man Homecoming cast after the jump.
First up, UFC Welterweight Champion Tyron Woodley recently appeared on a show called The MMA Hour (via CinemaBlend), and he let loose a little bit of information that he probably should have kept to himself. While on the show, Woodley said:
I don't know if I can even say this, but I'm working on a Marvel movie on Thursday in Atlanta.
While Woodley doesn't specifically mention Spider-Man: Homecoming by name, there are only two Marvel Studios films in production right now, and only one of them is shooting in Atlanta, Georgia. The other is Thor: Ragnarok and they're busy shooting down in Australia. So thanks to the magic of deductive reasoning, we're pretty sure Woodley will be in Spider-Man: Homecoming. As for who he'll play, your guess is as good as ours, but he would make a decent henchman or criminal that Spidey apprehends at some point in the movie.
This isn't the first time Marvel Studios has brought a UFC fighter to tangle with a superhero. In Captain America: The Winter Soldier, Georges St-Pierre played the villain Batroc, who fought Cap early on in the movie. Casting fighters like this makes sense since they're already in top physical condition and can complete most stunts themselves. Speaking of Captain America: The Winter Soldier, let's talk about that Avenger who may be appearing in Spider-Man: Homecoming. But beware of spoilers from here on out.
On Twitter, there's an account called @AtlantaFilming who spies on film productions shooting in the city. They snag set photos and keep an eye out for cast in the area. They've been paying pretty close attention to Spider-Man: Homecoming while shooting down South, and one tweet posted on July 27 (via Heroic Hollywood) was rather interesting:
It sounds like Scarlett Johansson was down in Atlanta for some reason, and it could be a safe bet that she was shooting some kind of cameo for Spider-Man: Homecoming. Some fans are wondering if maybe he meant Scarlet Witch (Elizabeth Olsen), which could also be a possibility, but since they went out of their way to spell the name correctly, the account seems to have spotted Johansson in the area.
Just because Scarlett Johansson is down in Atlanta during production on a Marvel movie doesn't necessarily mean she's there to shoot a role. Plenty of Marvel actors stop by the sets of other movies, and she could be there meeting with key Marvel personnel about The Avengers: Infinity War or something like that. However, since set photos have revealed Spidey sees some kind of action in Washington DC, it stands to reason he might run into Black Widow over there. I just hope the movie isn't overly crowded with Avengers cameos for no good reason.
Spider-Man: Homecoming arrives on July 7, 2017.