Exclusive: The 'I Am Not A Serial Killer' Poster Is Filled With Monsters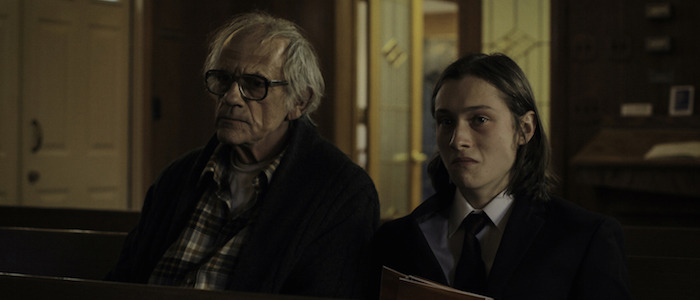 I Am Not a Serial Killer premiered at the SXSW Film Festival earlier this year, where I saw it on a whim and found myself having a great time with it. Although it sounds like it could be a fairly typical thriller cut out of the same cloth as Showtime's Dexter, Billy O'Brien's film (which is based on the novel by Dan Wells) quickly distinguishes itself as something unique, gruesome, and weird, feeling like a long-lost '70s genre gem that somehow escaped into 2016. Anyone looking for a low-key, character-driven horror movie will find much to love with this one.
We are pleased to premiere the new poster for I Am Not a Serial Killer, which leans heavily on Christopher Lloyd's instantly recognizable face. And rightfully so, because he's exceptional in the film.
Set in a small midwestern town, the film stars Max Records as John Wayne Cleaver, a teenager who has all of the telltale signs of a future murderer. His day-to-day struggle to keep the worst aspects of himself in line is already a full-time job, but then an actual serial killer begins to rack up a bodycount in the area. Naturally, it falls to John to solve the case and he quickly learns that the culprit, well, isn't quite human. Entertainment Weekly has premiered the trailer.
Records (whom you may remember as Max in Spike Jonze's Where the Wild Things Are) makes for a fine protagonist, but it is Lloyd, playing his elderly neighbor and friend, who steals the show. Lloyd will always be Doc Brown from Back to the Future to countless movie fans, but I Am Not a Serial Killer is a reminder that he is a powerhouse character actor capable of so much more than we have given him credit for. The exact nature of his role deserves to be seen during the course of the movie itself, but it really is unlike anything he's done in some time. The vast majority of Lloyd's current work is in the voiceover realm, so seeing him onscreen in a meaty role once more is a genuine pleasure.
Anyway, here's the poster: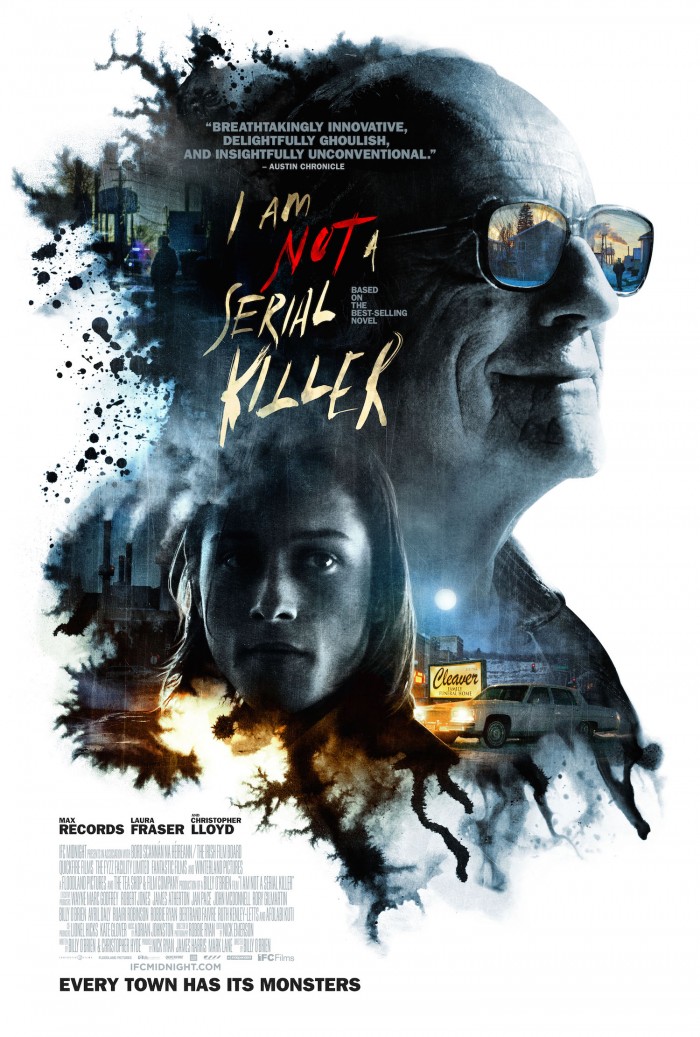 I Am Not a Serial Killer is playing at the Fantasia Film Festival tonight with Christopher Lloyd in attendance. For everyone else, IFC Midnight will release the film in theaters and through the usual VOD and digital platforms on August 26, 2016. Here's the official synopsis:
Sixteen-year-old John Wayne Cleaver (Max Records, Where the Wild Things Are) is not a serial killer—but he has all the makings of one. Keeping his homicidal tendencies and morbid obsessions with death and murder in check is a constant struggle that only gets harder when a real serial killer begins terrorizing his sleepy Midwestern town. Now, in order to track down a psychopath and protect those around him, John must unleash his darkest inner demons. Based on the cult novel by Dan Wells, this twisted, genre-bending thriller co-stars Christopher Lloyd and Breaking Bad's Laura Fraser.