'Star Trek Discovery' Reportedly Set Before The Original Series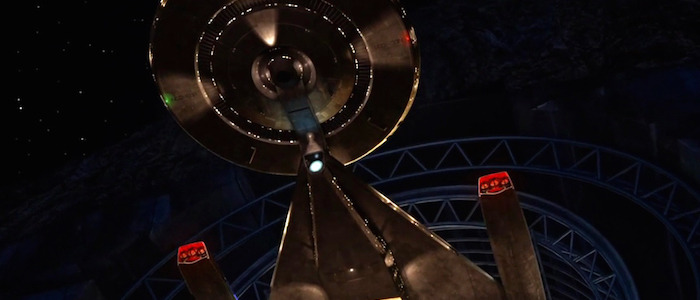 Comic-Con 2016 offered our first serious look at Star Trek Discovery, the upcoming television show coming to the CBS All Access in 2017. In addition to the title reveal, a brief "first look" video also premiered, showcasing some very rough test footage showing the U.S.S. Discovery in action. Trek fans have been divided over the design, which looks more rigid than the sleek and sexy U.S.S. Enterprise, but we may have been missing the forest for the trees as we've been debating starship design aesthetics. According to series producer and showrunner Bryan Fuller, the ship features an important clue concerning exactly when in the Trek timeline the series is set.
Speaking with Ain't It Cool News, Fuller said that fans need to look at the registry number written on the ship itself:
There's a big clue in the number of the ship [NCC-1031] that indicates when we're set.
Since the Enterprise captained by James T. Kirk and his crew in the original Star Trek television series from the '60s was registered as NCC-1701 and the Discovery is NCC-1031, this sounds like a conclusion worth jumping to – Star Trek Discovery is (probably, seemingly) set before the events of the original series. Specifically, it's set before the events of the original original series, since it has already been revealed that the new show will take place in the original Trek timeline rather than the rebooted alternate timeline seen in 2009's Star Trek and its two sequels. This wouldn't be the first Star Trek series to take place before the original show, as Star Trek: Enterprise explored the early days of Starfleet from 2001 through 2005.
If you haven't seen the official first look at the U.S.S. Discovery, you can check it out below. This video is not indicative of the final look of the show (it looks like it was thrown together so CBS could show something at Comic-Con), but you can see the registry number for yourself. The show's place on the timeline would also explain why this ship is clunkier than other ships we've seen – starship design hasn't reached its apex quite yet.
Specific plot details remain unknown, but with the show's TCA panel arriving on August 10, we can probably expect a bunch of new information to come pouring in, including confirmation of when the show takes place and who will be captaining the ship.
Here's the barebones official synopsis CBS released for the show:
The brand-new "Star Trek" will introduce new characters seeking imaginative new worlds and new civilizations, while exploring the dramatic contemporary themes that have been a signature of the franchise since its inception in 1966.
Star Trek Discovery will premiere on CBS in January 2017 before becoming a CBS All Access Exclusive.