Has HBO Really Changed Its Approach To Rape On TV?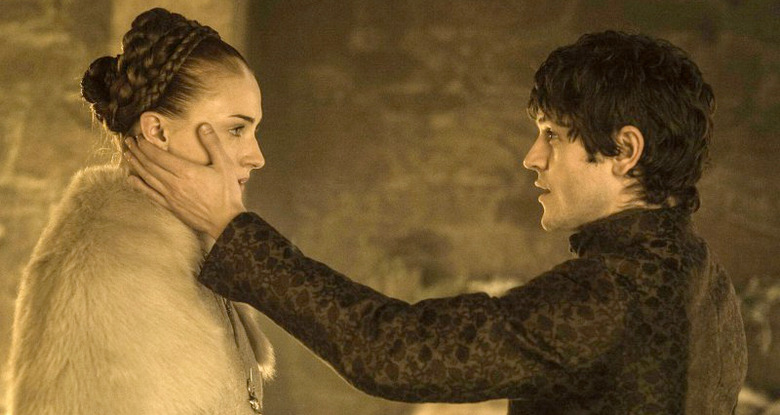 After the fifth season of Game of Thrones drew criticism for its reliance on rape as a narrative device, series producers David Benioff and D.B. Weiss were said to be reconsidering their show's approach to rape. However, looking at this season's HBO slate, rape and sexualized violence remains prolific. The Night Of opens with a naked woman murdered in bed after a sexual encounter with the innocent man accused of her murder. The forthcoming Westworld will feature a character committing rape against the humanoid female robots of the futuristic theme park.
This begs the question as to whether or not HBO is truly attempting to pull away from sexual violence against women, or if they're all talk. Several reporters tried to dig into this topic during HBO's Television Critics Association session this weekend, and the responses about the HBO rape problem from executives featured a lot of tapdancing. Find out what was said about HBO's use of rape on TV after the jump.
In a session with the Television Critics Association, President of Programming Casey Bloys seemed at first to confuse the difference between gender-based sexual violence and general violence:
"I know Game of Thrones has come up before and I can tell you Westworld, violence is [towards] everybody. It's not specific to women. It's men and women. It's kind of indiscriminate, I would say. I think it's violence in general. I guess my point is I don't know that it's specific to women. Plenty of men are killed as well."
A follow up tried to press Bloys on the narrative reliance on sexual violence, as opposed to indiscriminate killing, but he just didn't seem to get it. Bloys said, "Again, I don't necessarily see it as specific to women. Is there a lot of violence in Westworld and Game of Thrones? Yes, but I don't think it's specifically or isolated to women."
Finally, a reporter clarified that rape is a specific kind of violence, one that is not depicted towards men on these shows. Bloys conceded that the reporters had a point:
"No, you haven't seen men being raped but I guess the point I would make in Game of Thrones for example, men are castrated. A guy is fed a cake made with his sons. The violence is extreme on all sides. I take your point. So far there have not been any male rapes."
The producers of Game of Thrones responded a year ago, before Bloys even held his position. And while Westworld is under his watch, the show began under the previous regime. Still, Bloys doesn't see the sexual violence in Westworld as being the same as it is depicted on Game of Thrones. Bloys elaborated:
"I guess what I was saying about the Westworld pilot is that the point in Westworld is they're robots, and [the show is about] how we treat robots. How you treat a robot with humanlike qualities, is that reflective of how you would treat a human? So it's a little bit different than Game of Thrones, where it is human-on-human violence"
That's a fair point, but again, it seems that there isn't any sexual violence committed against male robots in Westworld, so the status quo still stands, even if the rape isn't being committed against real humans. Lisa Joy, a producer/writer on Westworld, also addressed the presence of sexual violence in the show, saying it was something they very carefully considered during development:
"It was definitely something that was heavily discussed and considered as we worked on those scenes. Westworld is an examination of human nature, the best parts of human nature – we explore paternal love, romantic love, the finding of oneself – but also the basest parts of human nature. That includes violence, sexual violence. Violence and sexual violence have sadly been a fact of human history since the beginning of human history. There's something about us, thankfully not the majority of us, but there are people who engage in violence, people who are victims of violence to this day. When we were tackling the idea of a park where you could do whatever you want with impunity, it seemed like it's an issue we had to address. When addressing it, there's a lot of thinking that goes into it. Sexual violence, not only for me but for everyone on the team, is an issue we take very seriously. It's extraordinarily disturbing and horrifying. In its portrayal, we really endeavored for ti to not be about the fetishization of those acts. It is about exploring the crime and establishing the crime and the torment of the characters within this story. Exploring their stories, hopefully with dignity and depth, that was what we endeavored to do."
As for The Night Of, Bloys pointed out that the British series on which the HBO show is based featured the rape as a plot point, so this wasn't exactly a decision by the cable network to go out of their way to include rape. Bloys explains:
"I can't speak to The Night Of specifically. But on that one, I will tell you, one of the executive producers, Jane Tranter is a woman, so it's not they're not unrepresented. But I can't imagine, think because it was based on Criminal Justice, which I think followed roughly the same story, so I don't think something that elemental to the story would have been questioned."
Pointing out that there's a woman executive producing The Night Of doesn't exactly preclude the show from being held under scrutiny for the abundance of rape storylines used in HBO shows. Surely there was some way to accomplish the same narrative goal without including the rape of yet another woman.
So has HBO really tried to curtail the reliance on rape as a plot device to show the brutality of a character? It doesn't seem so, but Bloys did acknowledge and accept the questions and criticism, "To your larger point of is it something we think about? Yeah. I think the criticism is valid. So I think it's something that people take into account. It's not something we are wanting to highlight or trying to highlight. But I think the criticism is point taken on it." Now if they would just do something about it, that would be great.
Additional reporting provided by Fred Topel, covering the TCA sessions for /Film.
How do you feel about HBO's continued use of rape as a plot device so often?