That 'Flatliners' Remake May Actually Be More Of A Sequel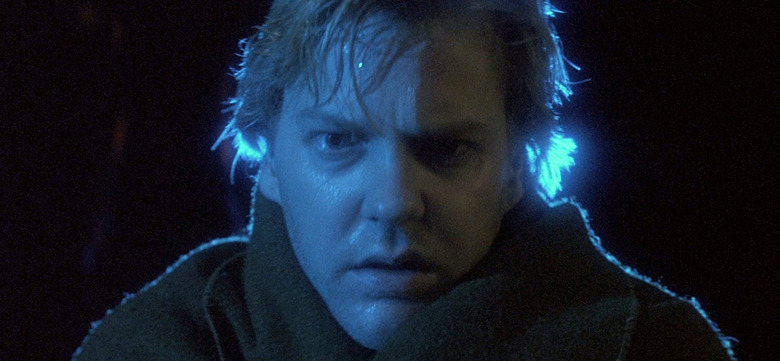 Just a few weeks ago, the developing Flatliners remake gained an interesting name with Kiefer Sutherland joining the cast. What's interesting about the addition of Sutherland to the cast is that he starred in the original 1990 cult favorite thriller, and his involvement in the new take on the story opened up the possibility of this being more of a sequel instead of a true remake. Now we seem to have confirmation of as much from Kiefer Sutherland himself. Find out what the actor had to say about the Flatliners sequel after the jump.
In a recent interview with Metro (via Bloody Disgusting), Sutherland discussed the character he's playing in what we thought was a Flatliners remake:
"I play a professor at the medical university. It is never stated but it will probably be very clearly understood that I'm the same character I was in the original Flatliners but that I have changed my name and I've done some things to move on from the experiments that we were doing in the original film."
At first, the fact that it's never stated that Sutherland's character is the same from the original movie makes me think that any allusion to the events of the original Flatliners may be subtle. However, Sutherland noting that this detail will "be very clearly understood" indicates this will be something that is revealed at some point in the story.
The original Flatliners followed a group of medical students who conducted a series of experiments on themselves, briefly flatlining and exploring the afterworld before being resuscitated by the others. The goal was to learn about the afterlife, but eventually each of the students must contend with the paranormal consequences of trespassing on the other side.
It was believed that the remake would follow the same story as the original, and even if this new movie ends up truly being more of a sequel, that doesn't mean the story can't be the same. This could merely be a more modern approach to the same work conducted by Kiefer Sutherland's character in the original. Maybe the new group of students ends up tracking down Sutherland's character in order to find out as much as they can before conducting their own experiments.
Speaking of the new group of students, the cast will include Ellen Page and Diego Luna in the lead roles with James Norton, Nina Dobrev and Kiersey Clemons rounding out the cast. They'll all be under the direction of Niels Arden-Oplev, the director of the original Girl with the Dragon Tattoo adaptation. It sounds like this will be yet another legacy-quel that keeps the narrative of the original intact while also basically remaking the original story.