Court Rules Luc Besson's 'Lockout' Totally Ripped Off John Carpenter's 'Escape From New York'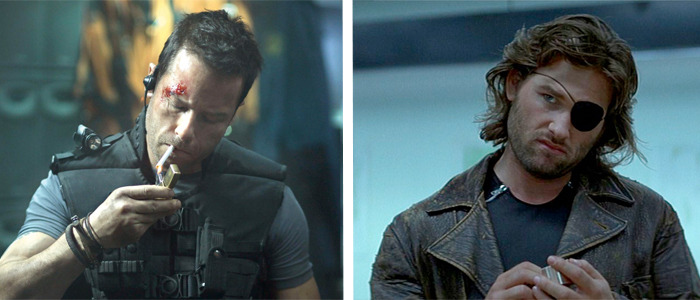 When the sci-fi action flick Lockout arrived in theaters in 2012, many reviews pegged the film written by Luc Besson as a half-ass remake of John Carpenter's 1981 classic Escape from New York with the action transported to a space prison instead of a dark future. It appears critics weren't the only ones annoyed with the similarities between the two films because director John Carpenter actually ended up suing writer Luc Besson because the script plagiarized the 1981 movie.
Previously, a court ruled that Luc Besson and his EuropaCorp production banner, along with the film's directors/co-writers Stephen St. Leger and James Mather had to pay $95,000 (or 85,000 Euros) to John Carpenter, co-writer Nick Castle and StudioCanal. But Besson decided to appeal that ruling, and now the appeals court has finalized their ruling, and yet again, it's not good news for The Fifth Element director. In fact, it's worse than it was previously.
According to Deadline, the appeals court in the Lockout Escape from New York lawsuit has ruled that Luc Besson must pay John Carpenter more than $500,000 (or 450,000 Euros) because Lockout "massively borrowed key elements" from Escape from New York. This was a surprising ruling to Besson, whose lawyers maintained that the filmmaker would never intentionally plagiarize a well-known movie. In addition, plagiarism cases surrounding feature films are extremely hard to win, especially when it comes to genre films which share plenty of similarities.
Here's the official synopsis for Escape from New York:
In 1997, a major war between the United States and the Soviet Union is concluding, and the entire island of Manhattan has been converted into a giant maximum security prison. When Air Force One is hijacked and crashes into the island, the president (Donald Pleasence) is taken hostage by a group of inmates. Snake Plissken (Kurt Russell), a former Special Forces soldier turned criminal, is recruited to retrieve the president in exchange for his own freedom.
And here's the official synopsis for Lockout:
Emilie Warnock (Maggie Grace), the daughter of the American president, leads a humanitarian mission to MS One, an outer-space prison in which the 500 most dangerous criminals from Earth are kept in a state of artificial sleep. Just as Emilie arrives, the now-awakened prisoners stage a violent rebellion, and she and the MS One crew are taken hostage. Emilie's only chance for salvation lies with Snow (Guy Pearce), a wrongly convicted agent who has been promised his freedom if he saves her.
If you take the setting of Escape from New York and put it in space, then you have Lockout. The only "major" difference is that the criminal at the center of the movie has to save the president's daughter instead of the president himself. However, Besson's lawyers attempted to argue that Escape from New York borrowed heavily from films such as Rio Bravo and the original Mad Max. But clearly that wasn't enough to change the mind of the appeals court.
In fact, the court itself pointed out the long list of similarities that extend beyond just the basic plot details. They included but are not limited to the fact that each of the main characters "got into the prison by flying in a glider/space shuttle, had to confront inmates led by a chief with a strange right arm, found hugely important briefcases and meet a former sidekick who then dies." Plus, at the end of both movies, our heroes each "keep secret documents recovered during their mission."
The good news for Besson is that even though he lost his court case, the ruling on payment was much less than the initial $2.4 million (or 2.2 million Euros) that Carpenter was seeking. And now Besson has a film on the way whose inspiration is clear, because it's based on a comic book. Valerian and the City of a Thousand Planets got quite the reception out of Comic-Con, and it could be a movie that gets us paying more attention to Luc Besson's filmmaking again. Valerian arrives on July 21, 2017.