'Spider-Man: Homecoming' News Round-Up: The Vulture, A 'Harry Potter' Approach And More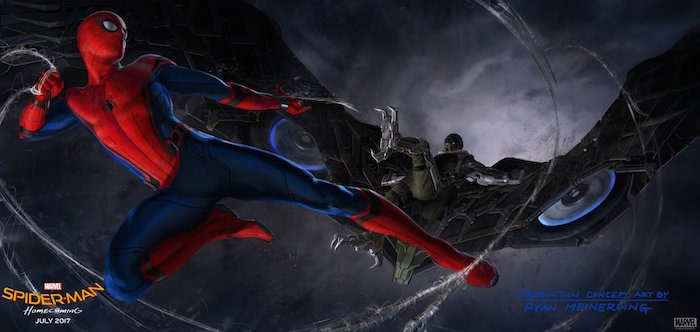 Spider-Man: Homecoming is still a year away from being in theaters, but the Marvel Studios Comic-Con panel had a surprisingly robust teaser for a movie that has just started filming. That presentation opened the floodgates and a steady stream of news about the film, which finds Tom Holland getting his own solo Peter Parker outing after a show-stopping debut in Captain America: Civil War. So, in the interest of keeping everyone on the same page, let's run down the latest Spidey details that have emerged in the past few days.
Let's start with ComicBook.com, who spoke with director John Watts about how this new Spider-Man fits into the larger Marvel Cinematic Universe, a world already filled with heroes of all kinds. Watts says that Spider-Man: Homecoming is all about letting us see the MCU from a unique perspective, one that hasn't been fully explored yet:
I think of it as the ground floor. If the Avengers Tower is the penthouse and we know what it's like to be a millionaire, billionaire playboy to be Tony or we know what it's like to be a God on another planet, that's the penthouse level of the MCU. Spider-Man is the ground floor. What does a high school in the MCU look like? What does riding the subway in the MCU feel like? Spider-Man seems like the most perfect opportunity because he's the most regular person in the canon that I thought he was a great chance to show what that angle of the MCU feels like.
Since the Comic-Con footage featured Peter watching bystander footage of the airport battle from Civil War on YouTube and various high school students discussing their crushes on various superheroes, it's safe to say that we'll be viewing this world through a brand new lens. If Marvel is going to keep our interest over the years, shaking up perspective and tone like this is going to be key.
Collider spoke with Marvel Studios President Kevin Feige, and one quote in particular from their conversation may pique your interest. When asked about future Spider-Man movies, Feige floated the idea of treating this series like the Harry Potter films, with each film representing a year in the high school education of Peter Parker:
Should we be able to make more after that? Sure. This is sophomore year, is the next one junior year? Is the next one senior year? Is there a summer break between each of those? I don't know what, but it was sort of how do we do a journey for Peter not dissimilar for what the students of Hogwarts would go through each of their years, which was one of the early ideas we had for the movies.
And finally, CinemaBlend caught up with Tom Holland himself, who explained why the Vulture (presumably played by the great Michael Keaton) is the right villain for this film:
Because we haven't seen him yet. We get a little glimpse of him in The Amazing Spider-Man 2, that little glimpse in the Oscorp vault. Which would have been super dope. But the fact that we are doing it first in this movie is going to be really exciting because we can take him to new places that we haven't taken a Marvel villain to before. And it's going to be really cool.
Spider-Man: Homecoming is filming now for a July 7, 2017 release date.