'The Great Wall' Trailer: Matt Damon Takes On Monsters In Ancient China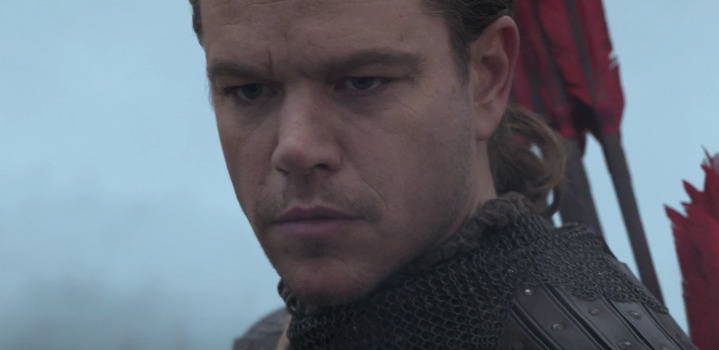 Legendary Pictures seems to be in the business of bringing monsters back to theaters in a big way. They revived Godzilla back in 2014 (with a sequel in the works as well), they had kaiju fight Jaegers in Pacific Rim, they're bringing back King Kong next year in Kong: Skull Island (watch the new trailer), and then they're going to have Godzilla and King Kong fight in 2020. Now they're bringing monsters into the deep past of China.
The Great Wall takes place 1,000 years ago, revealing the real reason the the iconic structure known as The Great Wall of China was built. Believe it or not, it appears the reason that the wall was built was to keep China safe from some extremely dangerous monsters, and Matt Damon is one of the noble warriors fighting against them. Watch The Great Wall trailer after the jump.
The goal is to make this feel as real as possible, as if it's something that's been lost to history. Director Zhang Yimou (House of Flying Daggers, Flowers of War) told Entertainment Weekly:
At its core, it is a period piece and an action film. The fantasy element does play a major role because of the monsters. But, what makes our film unique is that these are ancient Chinese monsters. Even though it's a fantasy movie, we filmed it in a very realistic way. We want it to feel like the events actually happened. Other than the monster, all aspects of this film are backed by either scientific or historical research.
The script comes from Tony Gilroy, Carlo Bernard and Doug Miro with an original story by Legendary's own Thomas Tull and World War Z scribe Max Brooks. This looks like it could be an interesting fantasy spin on history, but I'm not entirely sure that I buy Matt Damon in this kind of role just yet. Maybe we need to see more footage before really knowing if he fits this movie well.
Starring global superstar Matt Damon and directed by one of the most breathtaking visual stylists of our time, Zhang Yimou (Hero, House of Flying Daggers), Legendary's The Great Wall tells the story of an elite force making a valiant stand for humanity on the world's most iconic structure. The first English-language production for Yimou is the largest film ever shot entirely in China. The Great Wall also stars Jing Tian, Pedro Pascal, Willem Dafoe and Andy Lau.
The Great Wall hits theaters February 17.