'Suicide Squad' Featurette Brings A Bunch Of New Footage To Make You Love These Villains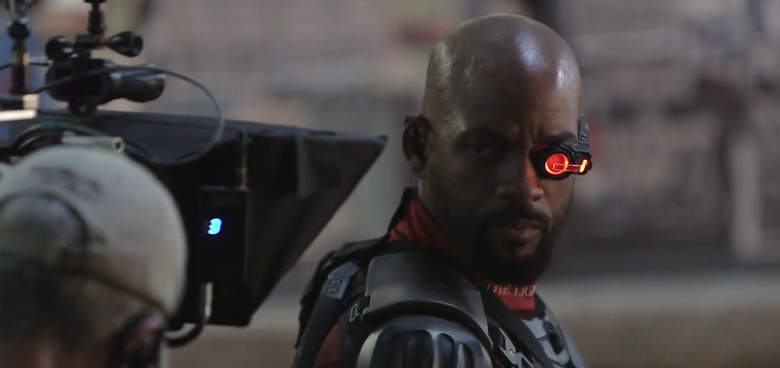 We're about a week from seeing whether or not Suicide Squad is as fun as the trailers have made it out to be, hopefully making it the perfect remedy for those who didn't enjoy Batman v Superman: Dawn of Justice. There's not much buzz on the supervillain spin-off of the DC Comics cinematic universe just yet (the embargo on those who have seen it so far breaks in the morning on August 2), but we're definitely hoping for the best.
Continuing to tease the arrival of Suicide Squad, a new featurette has just surfaced online, and this one has tons of new footage from the film as well as some great glimpses behind the scenes of the set (which we visited last year while they were in production). The cast talks about the experience of working with David Ayer, and there's plenty of talking heads with the filmmaker himself and some of the other integral members of the crew. Watch the new Suicide Squad featurette below.
In addition to the new footage on display, we also get to see that the cast of Suicide Squad really bonded during this production, even with all of Jared Leto's wild antics on set. They don't cover this in the featurette, but nearly the entire cast gave each other a tattoo of the word "Skwad" somewhere on their body after some drinks on set one night. Will Smith opted not to receive a tattoo, but he still gave one to Joel Kinnaman to stay part of the fun. This reminds me of how all nine members of the Fellowship of the Ring had the Elvish character for the number nine tattooed on their body.
If you want to see more recent footage from Suicide Squad, you can watch the eight new clips that were recently released online along with the official Comic-Con trailer that played in San Diego last weekend.
It feels good to be bad... Assemble a team of the world's most dangerous, incarcerated Super-Villains, provide them with the most powerful arsenal at the government's disposal, and send them off on a mission to defeat an enigmatic, insuperable entity. U.S. intelligence officer Amanda Waller has determined only a secretly convened group of disparate, despicable individuals with next to nothing to lose will do. However, once they realize they weren't picked to succeed but chosen for their patent culpability when they inevitably fail, will the Suicide Squad resolve to die trying, or decide it's every man for himself?
Suicide Squad opens in 2D, 3D, and IMAX 3D on August 5th.