TV Bits: First Teaser For The 'Gilmore Girls' Revival, American 'Peep Show' In The Works, 'Turn' Renewed For Final Season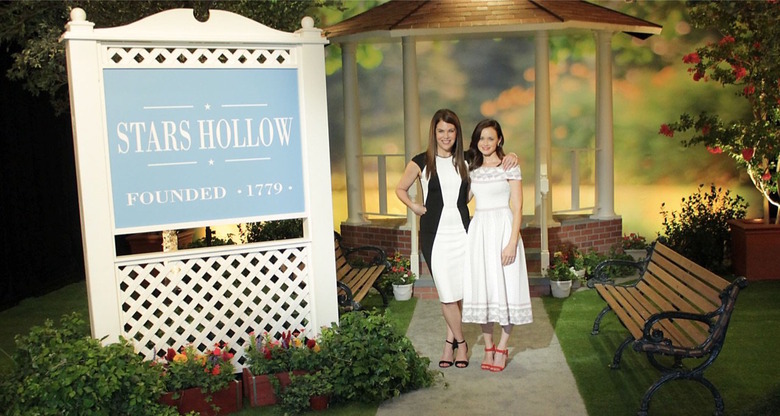 In this edition of TV Bits:
The Gilmore Girls revival has a teaser and release date.
BoJack Horseman is coming back for season four.
Turn has been renewed for a fourth and final season.
Starz is adapting Peep Show for the United States.
A House of Cards veteran heads to Homeland.
Adam Copeland joins the cast of Vikings.
Aladdin characters are heading to Once Upon a Time.
guys. season 4... it's happening! #ibingedtoohardlastnight #thankyoutomyfans #hopeyouarelovingseason3 pic.twitter.com/lZwuqRkpj0

— BoJack Horseman (@BoJackHorseman) July 22, 2016
BoJack Horseman is the best show on Netflix and one of the best shows available to watch anywhere. The third season dropped last week and the critical praise for this hilarious and brutally honest tale of showbiz and depression that just so happens to star a talking horse has been non-stop. So of course Netflix has renewed the show for a fourth season. Heck, the new season was still piping hot and cooling on the windowsill when that tweet above was sent. Netflix knows they have a winner on their hands.
Speaking of Netflix bringing back things that people enjoy, the first teaser for Gilmore Girls: A Year in the Life has arrived and it has brought with it a premiere date: November 25, 2016. Unlike most Netflix revivals, this is a four-episode miniseries, with each episode running 90 minutes (and covering a season in the life of the characters).
AMC has renewed Turn: Washington's Spies for a fourth season...which will also be its final season. The show, which follows American spies working against the British military during the Revolutionary War, was never a huge hit for the network, but it has its fair share of fans and they should be pleased to note that the series is going out on its own terms. Here's showrunner Craig Silverstein:
I am so pleased to be able to bring the story of the Culper Ring to its epic conclusion, at the point where the revolutionary war ends and the great American experiment truly begins. This series has been a joy to work on thanks to Barry Josephson, Alexander Rose, our sexy writing staff, brilliant crew, and dream team cast. I am also thrilled to continue to work with AMC, who had the passion and courage to put Turn: Washington's Spies on the air and support our effort. I eagerly look forward to our future adventures together.
The ten-episode final season will premiere in 2017.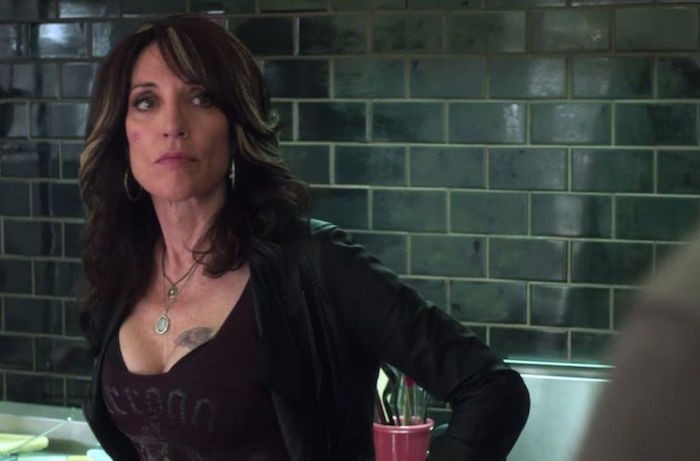 Sons of Anarchy's Katey Sagal and 30 Rock's Jack McBrayer are set to join the cast of The Big Bang Theory this season, playing the mother and the brother of Kaley Cuoco's Penny. As Vulture points out, this is the second time Sagal has played Cuoco's mother on a sitcom, as they starred as Cate and Bridget Hennessy on 8 Simple Rules from 2002 through 2005.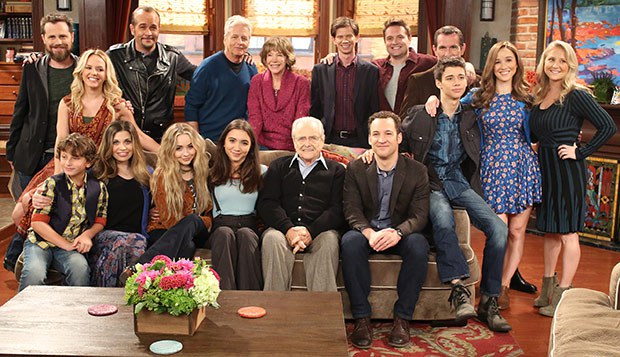 The currently filming third season of Girl Meets World will reunite a whole bunch of familiar faces from the original Boy Meets World and you can check out a cast reunion photo above. Via TV Line, here's who's popping up in the new season: Ben Savage (Cory), Danielle Fishel (Topanga), William Daniels (Mr. Feeny), Anthony Quinn (Mr. Turner), Rider Strong (Shawn), Will Friedle (Eric), William Russ (Alan), Betsy Randle (Amy), Lee Norris (Minkus) and Danny McNulty (Harley).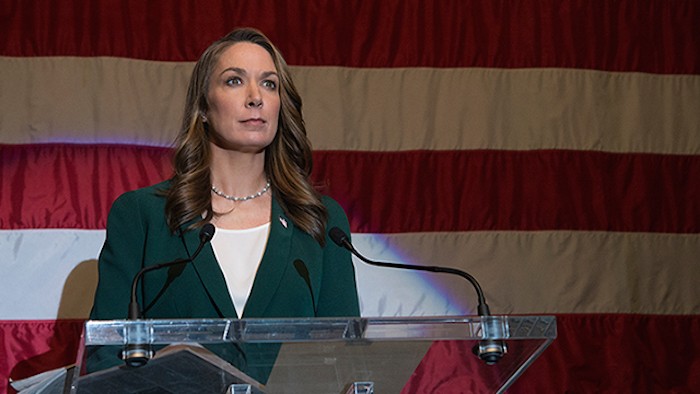 In House of Cards, Elizabeth Marvel's Heather Dunbar failed in her attempt to become president of the United States. But that's no matter: she's landed the job on another show. TV Line reports that Marvel has joined the cast of Homeland season 6 as the first female commander-in-chief, a newly elected former senator who finds her life threatened as she awaits her inauguration day. Naturally, Claire Danes' Carrie Mathison will have to once again put her personal issues aside to save the day and what-not.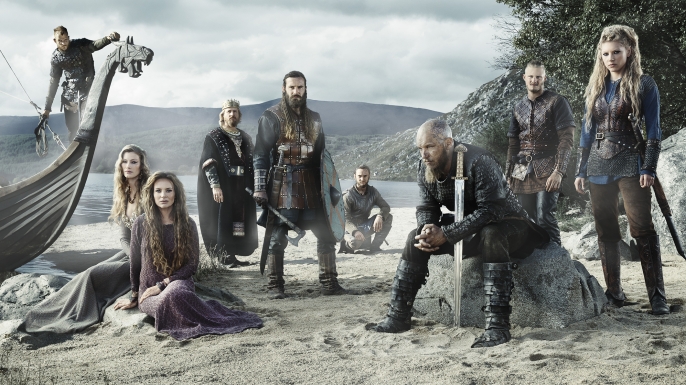 Adam Copeland, who once wrestled in the WWE as Edge, has joined the cast of Vikings season 5. According to Deadline, he'll take on the recurring role of "Ketill Flatnose, a fierce and brave warrior, chosen by Floki to be one of the leaders of the Viking party intent on traveling to Iceland to set up a community there." I have no strong opinions on Mr. Copeland or Vikings, but I will say this much: the world would probably be a more interesting place if more professional wrestlers played Viking warriors on television. Just saying.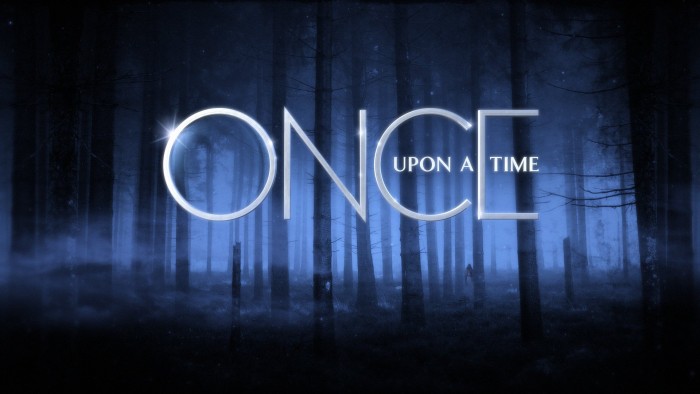 ABC's Once Upon a Time keeps on reaching into the Disney catalog to add characters to its ever-expanding cast of fairy tale characters and it looks like Aladdin is the next property to get pilfered. Graceland's Deniz Akdeniz will portray Aladdin on the series while Covert Affairs' Oded Fehr will take on the role the evil Jafar. The news came out of the show's Comic-Con panel, which also premiered footage featuring Jafar tormenting Aladdin while riding a flying carpet.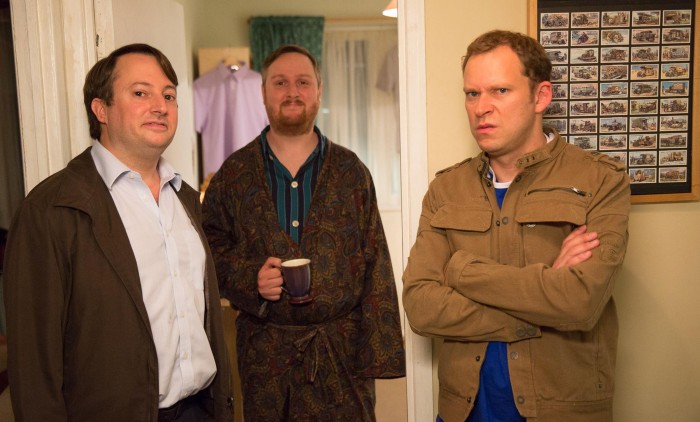 Starz has announced that it will be adapting the well-regarded British comedy series Peep Show for U.S. audiences, with original series creators Sam Bain and Jesse Armstrong on board as consulting producers. The hook of the show is ridiculously simple: two dysfunctional roommates must learn to coexist as they navigate life and get involved in all kinds of uncomfortable situations. However, the main hook is that the entire show is told from the first-person perspective of the two main characters, jumping between their POVs to showcase their perspective on various situations. Since this is Starz and not a basic cable network, this new version will hopefully maintain the darkness that made the original show something more than a traditional sitcom with a gimmick.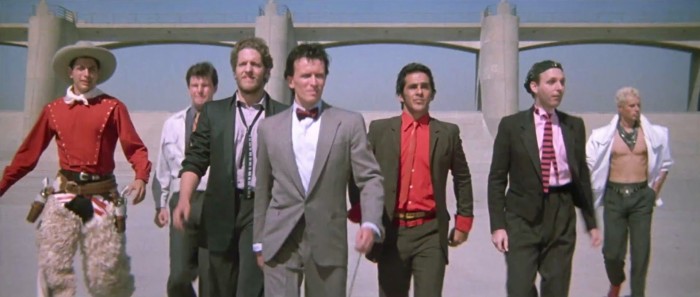 The small but dedicated fanbase of the 1984 oddball science fiction classic The Adventures of Buckaroo Banzai Across the 8th Dimension have been dreaming of a sequel for decades...and this may be a lesson of being careful of what you wish for. Kevin Smith seems like a very odd fit for a television adaptation of the film, but MGM apparently has faith in him and according to Deadline, Amazon is very interested in what the Clerks director is selling. It seems that all parties are very close to making a deal that will see the new Buckaroo Banzai series arrive sometime next year. Smith hasn't always been comfortable working outside of his "chatty slackers have goofy comedic misadventures" comfort zone, so I have no idea what his take on this character and his entourage of adventurers and scientists and musicians could possibly look like.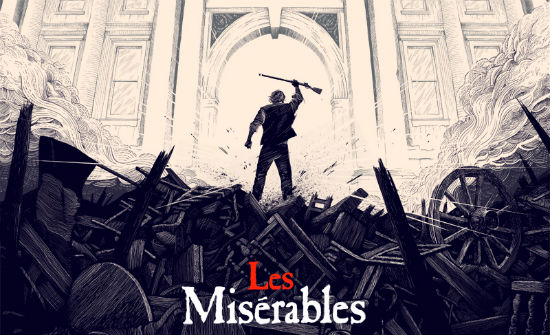 The BBC has announced that writer and producer Andrew Davies, best known for writing the Bridget Jones movies and the original British House of Cards miniseries, is set to pen a six-part television miniseries adaptation of Victor Hugo's Les Miserables. This project, which will utilize the same team that adapted Leo Tolstoy's War and Peace into a miniseries earlier this year, will be a proper adaptation of the legendary novel, not the massively popular musical adapted from Hugo's work. Davies emphasizes this in his statement:
Les Misérables is a huge iconic title. Most of us are familiar with the musical version which only offers a fragmentary outline of its story. I am thrilled to have the opportunity of doing real justice to Victor Hugo at last by adapting his masterpiece in a six hour version for the BBC, with the same team who made War & Peace.
This wouldn't be the first time someone has taken a stab at making a non-musical Les Miserables – a film version starring Liam Neeson as Jean Valjean came and went back in 1998. Hopefully, this version will have a little more staying power.