LOL: 'Rick & Morty' Recreate An Insane Georgia Court Transcript You Won't Believe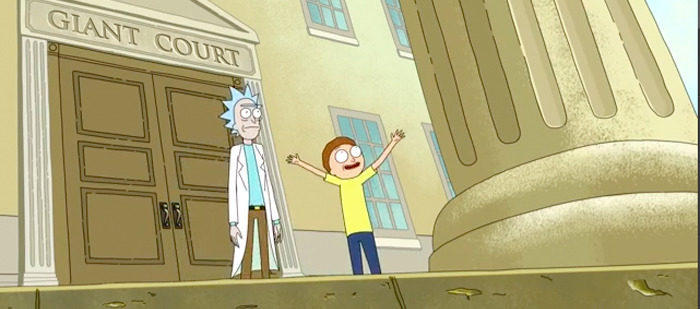 If you've watched an episode of Rick and Morty, then you know there are some positively insane things in the Adult Swim animated series. From weird aliens to intergalactic television to Mr. Poopybutthole, there's always something totally strange in each and every episode. However, during a panel at Comic-Con, creators Dan Harmon and Justin Roiland delivered a video so totally weird you won't believe the dialogue was lifted from a real life court case in Georgia.
Watch the Rick and Morty Georgia court animation after the jump.
If you were to watch this video without context, you would think that this was just another episode of Rick and Morty, albeit an unfinished one. Instead, it's a simple animation of a real Georgia court transcript that went viral back in June. Every single piece of dialogue in this video was said in a real court case back in June. If you don't believe me, you can read the whole vulgar transcript over here. Or if you want to read the finer points, check out this College Humor post.
Even though the transcript by itself is funny, hearing it play out with the voices of Rick and Morty (both voiced by co-creator Justin Roiland) makes it even better. Thankfully, this isn't the last of the goods we'll get from Rick and Morty this year because the third season of the show is supposed to debut before the end of 2016. Stay tuned to hear more about the show's return as soon we we hear more.