TV Trailers: 'Sherlock' Season 4, 'The Exorcist', And The 'Prison Break' Revival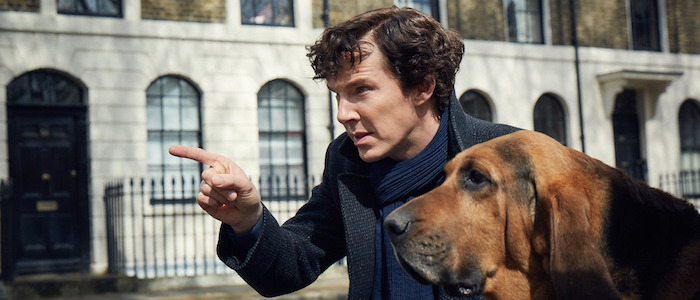 Let's consider the importance of a good trailer for a new television show in this day and age. As audiences, we are spoiled: there is simply too many good shows out there and it's nearly impossible to stay on top of them all. Word of mouth can do a great deal in the long run, but an exciting preview is worth a thousand internet comments saying "You know what? It's actually really good!"
So let's check out the new trailers for Sherlock, The Exorcist, and the Prison Break revival and start crafting our new TV schedules now.
Let's kick off this round-up with the new trailer for Sherlock season 4, which teases the first episodes of the beloved BBC series since 2014. This preview is a somber affair: Moriarty seems to be back, all kinds of nasty conspiracies seem to be afoot, and Benedict Cumberbatch's Sherlock Holmes seems colder and unhappier than usual. There is even a suspicious lack of Martin Freeman's Watson, which only serves to make Sherlock himself look so incredibly alone. This season looks like it'll be home to all kinds of grand revelations and personal devastations for Sherlock and his circle of friends allies, so expect lots of digital tears from Tumblr when this new season arrives sometime in 2017.
If you want a crystal clear example of how much pop culture has changed over the past forty years, look no further than The Exorcist: what traumatized audiences in 1974 is now a television series on Fox. What was once blasphemous and controversial is now a show on a major network. TV got weird, folks. Anyway, the Exorcist series takes the basic premise of the original movie (a priest assists a woman whose daughter is possessed by a demonic presence) and extends it, although this trailer is never especially clear how it plans to extend it. We already know that the show won't follow a trite "exorcism of the week" format, so I'm very curious to check this one out when it premieres on September 23, 2016 see how this fairly compact story has been adapted into a serialized format.
That brings us to the new footage from Fox's upcoming revival of Prison Break, which looks to give this show (which ran four seasons and concluded in 2009) a new ending. But first, there's some retconning to be done: despite having seemingly perished in the original finale, Wentworth Miller's Michael Scofield is still alive and locked up in a Middle Eastern prison. Naturally, Dominic Purcell's Lincoln sets out to break him out, because, well, that's the title of the show. First up, here's an extended clip from the new batch of episodes where Michael conspires with a fellow inmate:
And here's the new trailer, which does a pretty good job of making the Prison Break revival look...exactly like more Prison Break. I'm reminded of 2014's 24: Live Another Day, which brought back another popular Fox series for a limited engagement, giving the dedicated fans exactly what they want and allowing certain characters one final bow. Hopefully, those who remember Prison Break fondly will have a  reason to celebrate when the show returns in 2017.