'Game Of Thrones' Shares A Season 6 Blooper Reel And A Season 7 Production Tease [Comic-Con 2016]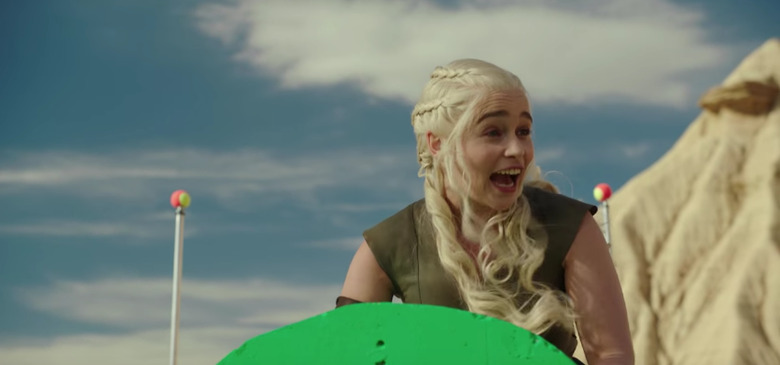 As we've already reported, winter is coming a bit late next year. The season change on Game of Thrones means production had to be delayed, which means season 7 can't start airing until summer (instead of spring as usual). But showrunners D.B. Weiss and David Benioff and many of their cast members still managed to make it to Hall H for their annual Comic-Con panel, and they brought a couple of treats with them.
We've already covered what we learned from the panel, including how history inspired "Battle of the Bastards" and why Sansa Stark withheld certain crucial information from a certain ally. Now we're happy to share with you some of what we saw, namely a Game of Thrones season 6 blooper reel and a Game of Thrones season 7 tease. Watch them below. 
Game of Thrones Season 6 Blooper Reel
Much of the Game of Thrones season 6 blooper reel revolves around Peter Dinklage's total inability to pronounce the word "benevolent," much to the amusement of his scene partners Nathalie Emmanuel and Jacob Anderson. Emilia Clarke proves that nothing undermines authority like an ill-timed slip on the floor, and Kit Harington displays more humor in his two brief scenes in this two-minute blooper reel than Jon Snow has in all six seasons to date. But my favorite moment might be when Rory McCann's axe gets stuck in that stump of wood. He always looks so miserable on the show, so it's nice to see him smile.
Game of Thrones Season 7 Production Tease
On a less silly note, Game of Thrones also brought an "in-production" tease for season 7. Since the next run of episodes haven't actually started shooting yet (because of winter having come and all of that), the video mostly focuses on the craftsmanship that goes into all these elaborate costumes, props, and sets.
Game of Thrones season 7 will premiere with seven episodes in summer 2017. It'll be the second-to-last season ever of HBO's smash hit fantasy drama.