New 'Star Trek' Series Title & Ship Revealed By Creator Bryan Fuller [Comic-Con 2016]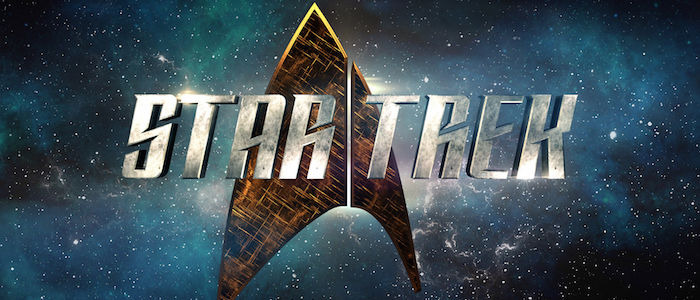 In addition to all the madness brought on by Warner Bros. Pictures and Marvel Studios in Hall H today, Trekkies got the chance to enjoy a nice retrospective discussion panel in honor of the 50th anniversary of Star Trek. The panel assembled the likes of William Shatner, Geri Ryan, Scott Bakula, Brent Spiner and Michael Dorn to talk about the iconic sci-fi franchise, their history with their respective shows, and how the series has and should continue to impact the future of our society.
But because this is Comic-Con and the panel was moderated by Bryan Fuller, the creator of the new Star Trek series coming to CBS in 2017, there was one cool announcement to be made. Find out the new Star Trek series title after the jump.
At the end of the panel, a quick teaser video revealed the title of the show, and here it is:
Before the title was revealed, a quick sequence showed the new ship that will be at the center of the series preparing for a journey into the final frontier, and you can watch it above. As you can see, the shipcopper sort of color, and while it shares some aesthetic traits with the USS Enterprise, this is not a new version of the classic ship. Instead, the ship is called Discovery, designation NCC-1031.
While the title is good and the prospect of a new Star Trek series is exciting, I must say that the visual effects in the teaser promo left quite a bit to be desired. They look like they came from an older video game. This might just be because it was something quickly created to tease the title at Comic-Con though, so hopefully the effects in the actual series are much better.
During the panel, Fuller had a few brief comments about the direction his Star Trek series will take. The creator specifically mentioned that "the new series has to remind the audience of the original message of Star Trek, which is continue to be progressive, continue to give us hope for a future." In addition, Fuller said that Star Trek Discovery would not be episodic like the original series, but instead would be a story that unfolds like a novel, chapter by chapter.
Star Trek Discovery is coming to CBS in 2017 and will stream on Netflix around the world shortly after it premieres.