'Aquaman': James Wan Will Bring Some Of His Horror Style To The Deep Sea [Comic-Con 2016]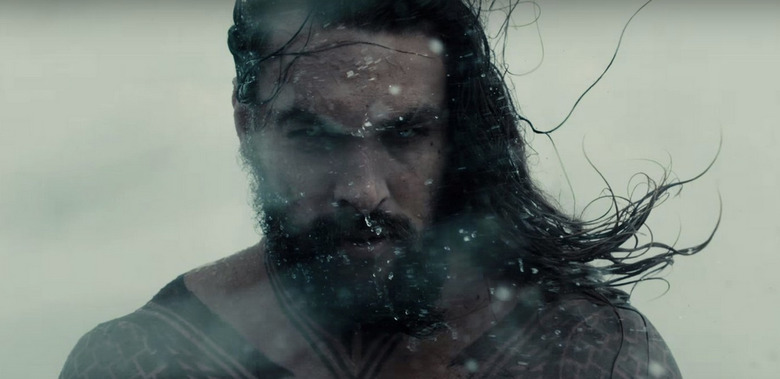 As one of the superheroes in the upcoming assembly of Justice League, it's no surprise that Warner Bros. Pictures wanted to tease a bit of Aquaman after his debut in Batman v Superman: Dawn of Justice. Former Game of Thrones star Jason Momoa has been slated to play the aquatic hero for awhile, and director James Wan has been attached for some time as well, and both were briefly on-hand to help tease the movie. Sadly, since the movie isn't shooting yet, the best tease of Aquaman came from the Justice League sizzle reel. But James Wan did say something that made the Aquaman movie sound rather intriguing.
"Fuckin' Aquaman, what can I say," as James Wan perfectly put it on the Hall H stage today. Wan was pumped to take on the film because "he's never been portrayed in the feature movie world before." The filmmaker went on, "The opportunity to explore this universe and bring a bit of my horror element to this, the deep sea, the scary world, and of course the wondrous world of Atlantis."
The ocean is full of plenty of mystery, so it's easy to see how Wan can use his horror style to help bring it to life. This probably doesn't mean Aquaman will have a wholly different tone from the other DC Comics movies, but Atlantis and the ocean will provide a unique setting that we haven't explored in this comic book world before, and that should be rather interesting.
Aquaman recently got a new writer in Gangster Squad scribe Will Beall. The script was previously developed with multiple scripts commissioned so the best story elements of each could be used to make one movie (a practice that is a bit controversial among writers). Beall previously worked on another draft of the script, but ended up leaving to go work on the pilot for the Training Day TV series at CBS.
Now Beall will be working by himself to rewrite the script based on a detailed treatment put together by director James Wan and producer Geoff Johns (who is also working with Ben Affleck on the solo Batman movie). We're still not sure what the story will be or when in the timeline of the new DC Comics universe it will take place, but we'll clearly get a lot of Aquaman in the Justice League movie as evidenced by the sizzle reel that debuted at Aquaman today. It looks like he'll get the kind of introduction that Wonder Woman received in Batman v Superman: Dawn of Justice.
Aquaman will hit theaters on July 27, 2018.